Check out our easy Ramadan snack recipes and pick some easy recipes to make your Iftar time delicious. These appealing snacks dishes will surely make your table tasty and colorful.
Ramadan is here again with its delicious festivities. It's become a tradition to cook snacks for Iftar time and everyone love to eat these light food items after breaking fast. After fasting for hours, the human abdomen can't hold heavy foods. Everybody wants some special snacks on their iftar table, especially kids. But it's tough to stand in front of the burner while fasting. So, we are here to make your cooking easier for the upcoming Ramadan Kareem.
SEE ALSO – Pakistani Ramadan Recipes
Ladies who observe fast regularly, you don't need to worry anymore. We will make cooking easier for you with these quick Ramadan Snack Recipes, so you can devote this precious time to prayers.
Crispy Chicken Pakoras – Easy Ramadan Snack Recipes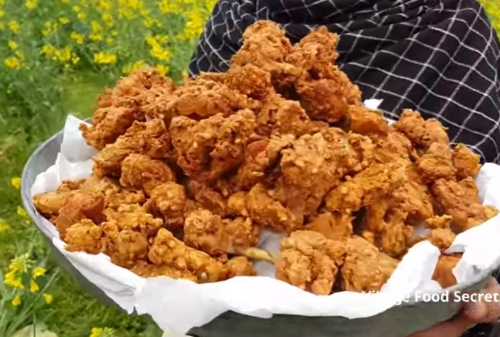 This Chicken pakora recipe is a perfect fit for your iftar snacks. This recipe is a new touch to the traditional pakoras with its exceptional taste. We are sure that your family is going to love these snacks.
Ingredients
Chicken breasts (2 chicken breasts or thighs) – chopped very small-
Onion – 1 chopped finely
Ginger Garlic paste- ½ tbsp.
Chili powder- 1 Tsp
Turmeric powder- ⅛ tsp
Garam masala- ½ tsp
Coriander powder- 1½ tsp
Salt- ¾ tsp
Gram flour or Chickpea flour (Besan) – ½ cup
Rice flour- 2 tbsp.
Cilantro, chopped- ¼ cup
Instructions
Chop the chicken breasts in small pieces.
Take a bowl to combine the chicken pieces along with the spices and cilantro.
Put the gram flour and rice flour in the chicken mix and combine well with your hand.
Don't use Water to mix the ingredients, the moisture from the chicken will help to bind the flour and the chicken.
Now make small balls out of the mixture.
Take a frying pan and heat enough oil for deep frying
Put the balls into the oil and fry over medium flame. Don't add too many balls at the same time.
Fry till the pakoras pick the golden brown color.
Take them out in a kitchen paper towel.
Put them in any hot pot that will make pakoras warmer until iftaar time.
Beetroot Cutlets for Ramadan
It's important to eat healthy food during Ramadan to keep your body healthier to fast regularly. These Beetroot cutlets will be amazing as a healthy Iftar snack.
Ingredients:
Beetroots – 2 medium sized
Potatoes – 2 medium sized
Onion – 1 big
Chilies (green or red) – 4 finely chopped
Turmeric (Haldi) powder – a pinch
Rock salt – ½ tsp
Bread made into crumbs (Freshly baked) – ½  a cup
Aamchur powder – 1 Tsp
Coriander leaves (Chopped) – 2 tbsp.
Oil – 4 tbsp.
Red chili powder – 1 Tsp
Cumin powder – 1 Tsp
Ingredients for Coating of Cutlets
Bread crumbs – 5 tbsp.
Water – 4 tbsp.
Maida – 1 tbsp.
How to Make
Boil the potatoes enough till they became mashable and mash the potatoes in a bowl and keep aside.
Wash and peel the beetroots off and grate them.
Take the green chilies and fresh coriander leaves and chop finely.
Now, take a bowl to mix mashed potato, grated beetroots, and chopped chilies and coriander leaves.
Add the amchur, red chili, turmeric, and cumin powder to the mixture.
Also, add the salt and mix well.
Before preparing cutlets, put the breadcrumbs and knead well.
It's time to make flat patties or any other shape you like.
Mix water and refined flour in a bowl and beat well so there will be no lumps left behind and the mixture is not too thick.
Dip the cutlets into the paste of refined flour and then coat it with breadcrumbs.
Add two tablespoons of oil in a pan and heat on a medium flame.
Place the cutlets in batches and cook at slow flame until it became brown from both sides.
Don't forget to prepare some spicy pudina chutney for the iftar feast.
Potato Fritters Recipe for Ramadan
There are many variations in making delicious potato fritters. But we are sharing the simplest recipe with you. It will not take much of your precious time to make these tasty iftar time snacks.
Ingredients:
Potatoes – 2 big
Gram flour or chickpea flour (besan) – 1 cup
Rice flour – 1 cup
Red chili powder – 1 Tsp
Turmeric powder – A pinch
Salt – According to taste
Curry leaves (finely chopped)– 1 sprig
How to Make:
Slice the Potatoes with equal thickness after washing and peel their skin off. It will be good to use a processor or handheld slider.
Mix all other ingredients in a bowl.
Add water and mix well to make a thin paste without lumps.
If the paste becomes thin, add a more rice flour to make it better.
Heat oil in a pan on medium flame.
Dip the slices in the batter, so that they are fully coated.
Drop into hot oil and fry till both sides change their color into golden brown.
Serve hot potato fritters with tomato sauce.
Jam-e-shirin Cream Fruit Salad – Ramadan Snack Recipe
Nothing is more nutritious than fruits. The time of breaking fast is best to use some fruits to get some calories back. It's also a common practice to use fruits in iftar. This Jam-e-Shirin Cream fruit Salad is best to eat in Iftar.
Ingredients,
Apple – 2
Banana – 3
Pear – 1
Iceberg lettuce (finely sliced) – ½ cup
Light cream  – ½  cup
Jam-e-shirin or rohafza – 5 tbsp.
Sugar – 2 Tsp
Salt – 1/8 tsp (2-3 pinch)
Peel fruits skin off.
Cut apple and pear in small equal-sized cubes
Slice banana and cut ice burg lettuce finely.
Take 5 tbsp. of jam-e-shirin or rohafza mix in a half cup of light cream.
Beat well after adding 2tsp sugar and pinch of salt.
Now, mix fruits and cream mixture
Freeze it for 2-3 hours before serving.