Biwi Se Sohbat Karte Waqt Ki Dua
In Islam, we are directed to do each task by taking the name of our Lord Allah Almighty. Allah advises reciting Hambistri ki Dua to married couples before going to have Sohabt with their wife. In this way, Allah ensures your good intentions with it and provides blessings in form of naik aulad and it also keeps you close to Allah Almighty. Every Muslim shall make it a habit to recite this Dua with its translation before sexual intercourse to have results with Allah Almighty's will. Hambistri ki Dua is as follows.
Humbistari ki dua in Arabic
بِسْمِ اللَّهِّ اللَّهُمَّ جَنِّبْنَا الشَّيْطَانَ وَجَنِّبِ الشَّيْطَانَ مَا رَزَقْتَنَا
There is a proper guide in Islam to make sure the intercourse is appropriate because there are do's and don'ts in Islam that a Muslim must follow while having sexual intercourse with his wife. For example, although it is permissible to have intercourse with a wife at any time but there are some specific times when it is considered makruh to have sexual intercourse.
Just like this, there are many other guiding steps for a Muslim to follow. One can learn it in detail by reading the Humbistri ki Dua pdf. Allah Almighty has directed Humbistri ki dua to both husband and wife. Hence, humbistri ki dua for wife is the same and is according to Dawat-e-Islami.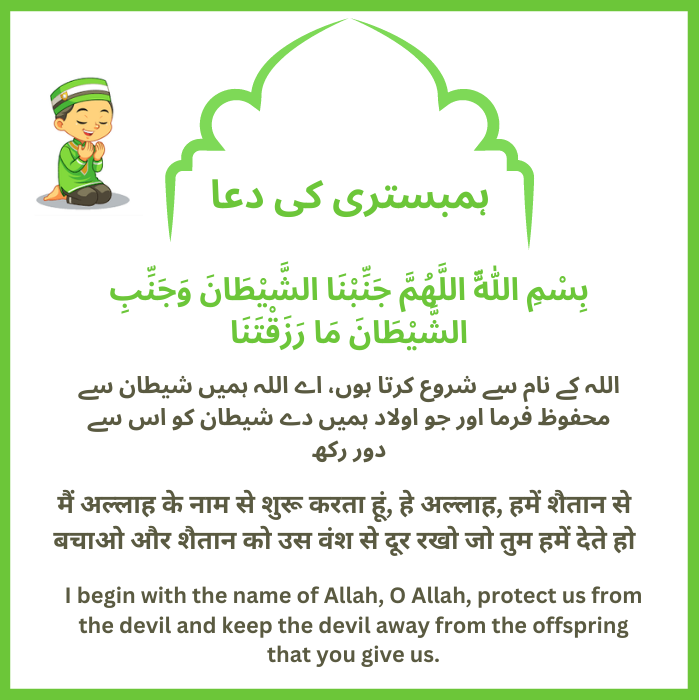 Humbistri ki Dua Urdu:
A Muslim should learn Hambistri ki Dua by heart and in Urdu to have a better understanding and influence of it in your life. Hambistri ki Dua in Urdu is as follows.
اللہ کے نام سے شروع کرتا ہوں، اے اللہ ہمیں شیطان سے محفوظ فرما اور جو اولاد ہمیں دے شیطان کو اس سے دور رکھ
Humbistri ki Dua meaning in Urdu:
Humbistri ki Dua is mainly given to us to add up the help of Allah Almighty in the intercourse and to keep Shaitan away from the child they are going to have. A Muslim should keep in mind about the presence of Allah Almighty and for that he must recite this Dua to keep his unintentional bad intentions away during intercourse. It is important to know humbistri ki Dua meaning in Urdu.
Humbistri ki Dua in English:
Islam teaches every act of a Muslim with its proper steps. Dua is considered an important part of every act because with Dua Allah's blessings and help are added. If you are having difficulty in understanding Hambistri ki Dua in Urdu or Arabic you can always learn it in English for ease. Humbistri ki Dua in English is as follows.
I am having relations in the name of Allah. O Allah save us from Satan and keep him away from the children You grant us.
Humbistri ki Dua Dawat-e-Islami:
Allah ky naam sy shuru kerta hu. Ay, Allah hamein shaitan ky shar sy mehfooz farma aur jo aulaad hamy dy shaitan ko ussy dhoor rakh

.
Humbistri ki Dua Hindi:
Humbistri ki Dua Tarjuma is
भगवान के नाम पर, भगवान हमें शैतान से दूर रखें और शैतान से दूर रखें जो हमारे पास है
FAQs:
Does the Muslim have to say anything during sexual intercourse? 
A Muslim is directed to foreplay before having sexual intercourse with his wife because women reach the climax a bit late than the man. Hence, he must foreplay to reach the climax at the same time. Other than that, the most important thing is to recite the Dua for sexual intercourse. 
What is Hadith about the pleasing wife? 
The Holy prophet (S.A.W) has narrated that once a woman came to the Prophet (S) and said: "O' Messenger of Allah! What is the right of a husband upon his wife?" Then, he answered her: "That she obeys him and does not offend him.
How can I be sexually active in Islam? 
In Islam, the man is directed to have sexual intercourse with his wife according to her desire and need. Man must take care of her wife's will. 
Conclusion:
On the last note, Allah Almighty promises to his creation to provide help in every aspect of life. Sexual Intercourse is a crucial part of a Muslim's married life. Indeed, man needs the help of Allah Almighty in this case. Allah never leaves his man alone he has provided us with Humbistri ki Dua to shower his blessings not only on his man but on the children, they are going to have. So, if you want Blessings of Allah then perform all prayers in your daily life.