Ramadan desserts recipes during Ramadan are something that kids love. My little sister just loved that time of iftar and see beautiful sweet dishes on the dining table. Every Iftar is like a mini Eid for all of us. The amount of happiness that we experience a few minutes before Maghrib adhan is myriad and unmatchable. It is said in a Hadith e Qudsi:
Abû Hurayrah relates that the Prophet (peace be upon him) said: "Allah says: 'Every deed of the child of Adam is for himself, except for fasting. It is for Me, and I shall reward it.' Fasting is a shield, so if it is a day of fasting for anyone of you, then he should engage in no obscenity or shouting.
If anyone belittles him or fights with him, he should just say 'I am a person who is fasting.' I swear by Him in whose hand is Muhammad's soul, the smell of the fasting person's breath is sweeter to Allah on the Day of Judgment than that of musk. The fasting person has two occasions for joy, one when he breaks his fast because of his breaking it and the other when he meets his Lord because of the reward for his fast."
[Sahîh al-Bukhârî (7492) and Sahîh Muslim (1151) with the wording is that of Muslim]
Best Ramadan Desserts Recipes for Iftar 
So on mini Eids aka Iftaars, we love eating sugary things such as desserts, fruits (fruit chaat) and sweetened milk. We break our fast with a date anyway. Since the cravings for sweet tooth is real, here are a few desserts you ought to try out this Ramadan.
Pineapple Cream Dessert – 1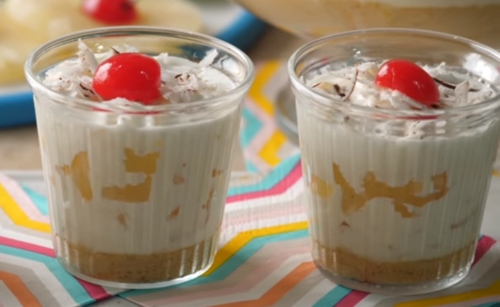 Ingredients:
 Cream chilled 200 ml
 Cream cheese 1 & ½ Cups
 Caster sugar ½ Cup or to taste
 Pineapple small cubes 1 & ½ Cups
 Biscuits 200 gms
 Cheeni (Sugar) powdered 2-3 tbs
 Makhan (Butter) melted ¾ Cup
 Pineapple slices
 Fresh coconut grated
 Cherry
How to Make Pineapple Cream:
In a bowl, add cream and beat until fluffy & set aside.
In a bowl, add cream cheese, caster sugar and beat until sugar is dissolved.
Now add whipped cream and beat until well combined.
Add pineapples cubes, gently fold to combine & set aside.
In the chopper, add biscuits, sugar, and chop until crumbled.
During chopping, add butter and grind well.
Assembling:
In serving glass or dish, add crumbled mixture and press firmly down into the base to create an even layer.
Add cream & pineapple filling and spread it.
Add pineapple slices and cream & pineapple filling.
Sprinkle fresh coconut and top with a cherry.
Recipe By: Hina Khurshid
---
Vermicelli Kunafeh – 2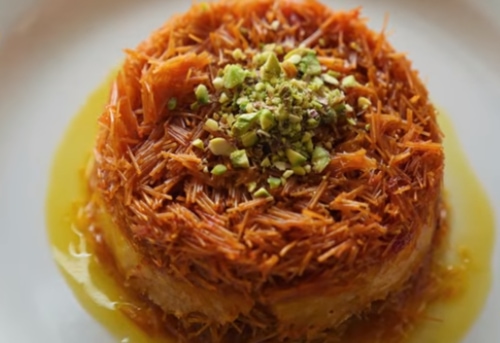 Ingredients:
Cheeni (Sugar) 1 Cup
Pani (Water) 1 Cup
Lemon juice ½ tsp
Zafran essence (Saffron essence) ¼ tsp (optional)
Sawaiyan (Vermicelli) 2 packets (300 gms)
Makhan (Butter) unsalted 4-5 tbs
Zarda ka rang (Yellow food color) ¼ tsp
Ricotta cheese or Khoya 1 & ½ Cups
 Mozzarella cheese grated ¾ Cup or as required
 Pista (Pistachio) chopped
How to Make Vermicelli Kunafeh?
For Sugar syrup:
In the saucepan, add sugar, water and cook until sugar is dissolved.
Add lemon juice and saffron essence, mix well and cook until thickens & set aside.
In a bowl, add vermicelli and crush well.
Add butter and mix properly.
Take out half quantity of butter coated vermicelli in a separate bowl and reserve for later use.
Add yellow food color, mix well & set aside.
In a baking pan, add colored coated vermicelli and spread evenly.
Add ricotta cheese or khoya and crumbled it with the help of the hands and spread evenly.
Add mozzarella cheese and spread it, lose the edges and again add a layer of reserved butter coated vermicelli.
Bake in a preheated oven at 180 C for 20-25 minutes.
After baking, pour generously warm sugar syrup and garnish with pistachios.
---
Shahi Kulfa – 03 Ramadan Desserts
Ingredients:
2-liter Full Cream Milk
3/4 cup Sugar
4 tbsp. Cornflour
1/2 cup milk
1 cup Khoya
1 tsp Kewra water
1 tsp Cardamom powder
Saffron few strands
4 tbsp. condense milk
1 cup Almonds chopped
2-3 tbsp. Pistachio chopped
How to Make Shahi Kulfa?
Heat milk in a pan and bring it to boil. Slow down the flame.
Add sugar and let it dissolve.
Cook until reduced half.
Gradually add cornflour and cook until thickens.
Add khoya, kewra water, cardamom powder, saffron and cook until khoya dissolve.
Add condensed milk, cream, almonds, and pistachio. Mix it well.
Pour in an air tight contain.
Keep it in the freezer for 8-10 hours.
Cut it in slices and drizzle some red syrup.
---
Bread Gulaab Jamun – 04
Preparation Time: 5 minutes
Cooking Time: 40-45 minutes
Serve: 4-5 persons
Ingredients:
Bread Slices 12 pieces
Milk half cup
Water as needed
Sugar 1 ½ cup
Cardamom 6 pieces
Pistachio crushed 10g
Cashew crushed 10g
Cooking Oil as needed
How to Make Gulaab Jamun?
In a bowl, add the bread slices and mash it.
After that add milk and mix it well.
Next, make Gulab Jaman by filling it with cashew and pistachio.
Now deep fry it in the cooking oil until golden brown.
For making sugar syrup, add water, sugar, cardamom in a cooking pot and cook it well.
Keep the Gulab Jaman in the sugar syrup for 4 to 5 hours.
Your delicious Bread Gulab Jaman now ready to serve.
---
Salted Caramel Custard – 05
Ingredients:
Nine large egg yolks
2/3 cup white sugar
2 cups heavy cream
1/2 teaspoon kosher salt
Two teaspoons vanilla extract
1 cup whole milk
Flaky sea salt (such as Maldon®), to garnish
How to Make?
Preheat oven to 300 degrees F (150 degrees C). Place 6 (6.5 ounces) ramekins in a baking dish.
Place sugar evenly in a heavy-bottomed saucepan over medium heat. Without stirring, allow sugar to slowly melt around the edges of the pan, about 5 minutes, adjusting heat as necessary. When edges start to bubble, shake and swirl pan to dissolve remaining sugar but without stirring it. Keep pan moving until you have a clear, dark caramel, about 10 minutes. When sugar is completely dissolved, whisk in cream; caramel will cool into a lump; this is normal. Keep stirring over medium heat until caramel melts and mixture comes up to temperature and sugar has dissolved. Remove from heat
Stir in kosher salt, vanilla, and cold milk; mix well.
Place egg yolks in a large mixing bowl. Whisk in a ladleful of caramel/milk mixture to the yolks. Add 2 more ladlefuls, one at a time. Then mix in the remainder of the caramel/milk mixture to the yolks, whisking until thoroughly blended.
Divide custard mixture evenly among the ramekins. Carefully pour into the baking dish enough water so that it comes halfway up the sides of the filled ramekins.
Bake in preheated oven until custard is set and the top of custard jiggles evenly across the surface, 45 to 60 minutes (depending on the size of your ramekins and how full they are). If the center seems looser than the edges, continue to bake another minute or so.
Transfer ramekins to a cooling rack; cool to room temperature. Cover ramekins with plastic wrap and refrigerate at least 1 hour until they are very cold.
Serve topped with a pinch of light, flaky sea salt.