Use happy Ramadan statuses, messages, and prayers On the auspicious occasion greet and celebrate Ramadan Kareem with Beautiful Happy Ramadan Messages in English Arabic, Urdu, and Malayam for friends and family. Do you know which month is a Blessed month? Ramadan, the 9th month of the Islamic calendar enables Muslims from all around the world to observe fast.
Happy Ramadan Mubarak to you!!. May Allah give you happiness and success and guide you to the right path.
May Almighty give you strength & good health to keep the fasts and perform all the prayers.
May this Ramadan Kareem Brings you out of all diseases and give your Family a healthy Life – Ameen
Ramzan is about getting forgiveness from Allah not just being hungry!!
May this Ramadan get us out of COVID-19 disaster
May this Ramzan bring good health, lot of wealth, & happiness in your life
Muslims have to restrain from drinking, eating or must avoid malicious thoughts by devoting themselves under the reflection of the Quran and while praying. Ramadan Mubarak is a common greeting phrase shared with friends and family to congratulate them for the beginning of a Blessed month.
"It was in the month of Ramadan that the Quran was revealed as guidance for mankind," – Quran
Ramadan is time to empty your stomach to feed your soul.
Ramadan is not only by fasting we need to feed the Hungry, Help the Needy, Guard Our Tongue, not judge others and forgive. That is the spirit of Ramadan.
May the light of Ramadan that we rejoice must show us the right way and lead us together on the conduit of peace, harmony and social harmony.
Best Happy Ramadan 2023 Messages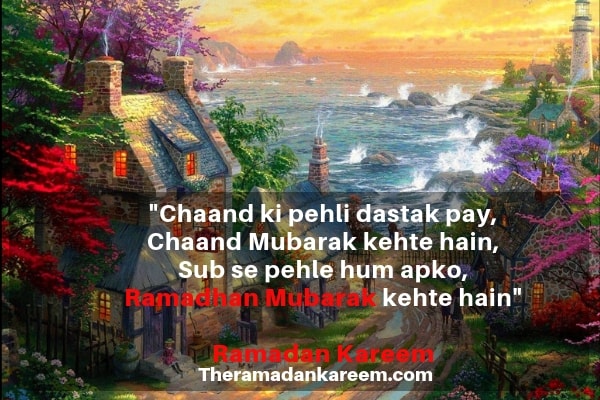 Chaand ki pehli Dastak pay, Chaand Mubarak kehte hain, Sub se pehle hum apko,"Ramadhan Mubarak" kehte hain!!
Are you looking for a unique Ramadan wish? Thus, we have gathered the latest
Ramadan Messages
in English, Arabic, Urdu, and Malayalam for you. These inspirational wishes can be sent via SMS or shared on Whatsapp or as a Facebook status. Check out our amazing heartfelt collection of Ramadan Mubarak messages.
YA ALLAH!! Ramadan Mubarak Ke Ibtida ka Hamay Ziada Se Ziada Nekian Kamanay Or buraiyon Se Dur Hone Ki toufeeq Ata Farma. – Ameen
Allah helps us if we have full faith in him!!
Dil men phir se khushiyon ka pegam araha ha, mubarik ho momino ramadan araha ha. Happy ramadan
Koi adhoori na rahay dua kisi ki Sab kay liye aisa mubarak ramzan ho. Happy Ramadan
Ramadan is time to prove that, How much you love the name of Allah & Messengers SAW.
Short Ramadan Messages in English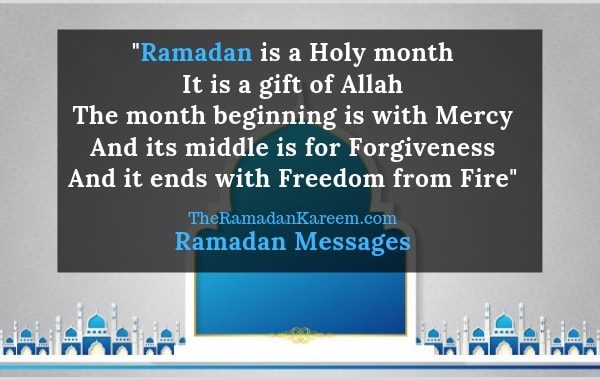 Ramadan is a Holy month, It is a gift of Allah, The month beginning is with Mercy, And its middle is for Forgiveness, And it ends with Freedom from Fire
Happy Ramadan Mubarak to All!! This month is the best time to practice Taqwa. Hopefull we do the same!!
Ramadan month isn't just about fasting!! it is about getting rid of every lust and sin. May we remember all its teachings!!
As the fortunate month of Ramadan starts, May the crescent-shaped beautiful moon revitalize your path toward enlightenment and May Allah bless you with peace, harmony and grace.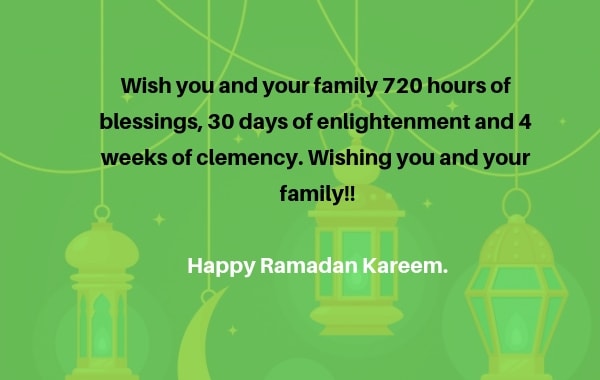 WISH You A VERY HAPPY Ramadan!! I hope you will attain the purification of the soul upon commemorating or celebrating the Holy month of Ramadan. Wishing you a blessed and Happy Ramadan!
May Allah sprinkle and shower all his wonderful blessings over you and your family. May you all have a peaceful and a Happy Ramadan!
May this Blessed and Holy Ramadan will start with happiness, peace and joy, May this Ramadan will bring you lots of joy, good fortune and prosperity for you and family. Have a blessed and Happy Ramadan!!
Ramadan Kareem is best chance to ask Allah for forgiveness. Thanks Allah for his blessings and for keeping you alive until Ramadan 2021!!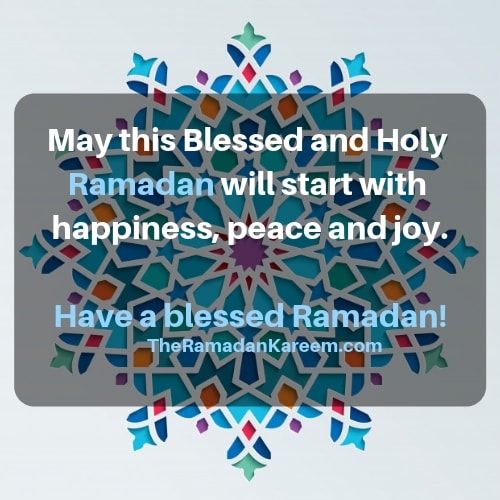 May Ramadan enlightens your path and Helps you to develop a clear understanding And enables you to do judgment between the right and wrong, Or truth and false.
It's the time to Rejoice once again, Ramzan gives us a chance to repent from our sins. The blessed 30-days of Holy Ramadan helps to purify our soul. So, let's make it more deserving for Allah's blessings. Ramadan Kareem!
May Ramadan be as positive as ever!!

May Ramadan bring joy and happiness!!

May it also bring health and wealth to you.!

May the festival of lights brighten up to your,

And your near and dear ones lives..!!
In this Holy month of Ramadan,

I wish you and your family 720 hours of blessings, 30 days of enlightenment, and 4 weeks of clemency.

Wishing you and your family a Happy Ramadan Kareem.
Nice Ramadan Messages in Urdu
The best Ramadan Mubarak messages in Urdu are available here for free. Readers can use any of the wishes, messages, or images to send to their loved ones through social platforms.
Raat ko naya chand mubarak ho,

Chand ko chandni mubarak,

Falak ko sitare mubarak.

Sitaroon ko bulandi mubarak.

Aur aap ko hamari taraf se, RAMADAN MUBARAK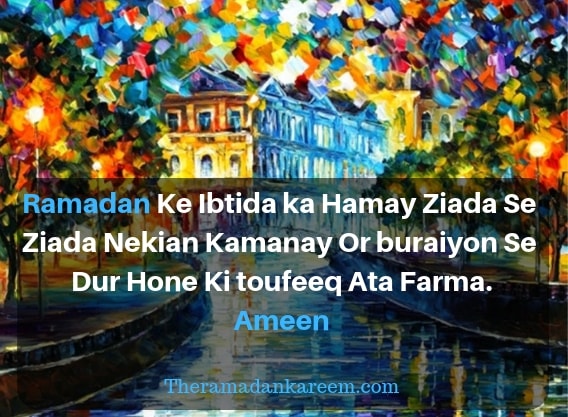 Ye Ramadan Ki Raaten,

Ye Rab Ki Inaayaten, Ye Rehmaton Ka Nuzool,

Ye Nekiyon Ka Husool,

Ye ibadat Ka Shoq, Ye Tilaawat Ka Zoq,

Ye Gunaahon Se Doori, Ye Tamaam Raaten Noori,

Ye Taravih K Silsily, Ye Bakhshishon K Marhaly, is Maahe Muqaddas K Sadqy,

Ya ALLAH! Hm Sb Ko Bakhsh Dy Or Hm Pr Reham Farma! "Aameen""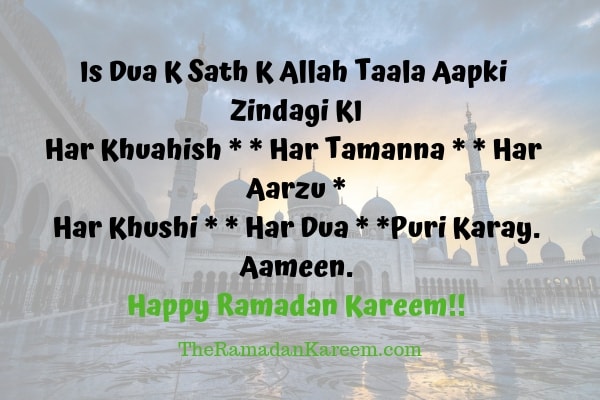 Is Dua K Sath K Allah Taala Aapki Zindagi KI Har Khuahish

* * Har Tamanna * * Har Aarzu * Har Khushi * * Har Dua *

*Puri Karay. Aameen.
Be Zubano Ko Jab Wo Zuban Deta Hy

Parhne Ko Wo Phir Quran Deta Hy

Bakhshash Pe Aa Jay Jab Ummat K Gunahon Ko

Tohfe Me Phir Woh Ramazan Deta Hy Have a blessed Ramadan
Raat ko naya chand mubarak,

Chand ko chandni mubarak,

Falak ko sitare mubarak.

Sitaroon ko bulandi mubarak.

Aur aap ko hamari taraf se, RAMADAN MUBARAK
Ramzaan ka mubarak mahina,

Allah ki ibaadat ka mahina Mohabbat uss mabood ki,

Ahmiyat uss khudai ilm ki..

Yahi hai rah-e-khudai ka mahina..

Ramzaan ka mubarak mahina..
Tu Meri Duaon Mai Shamil Hai is Tarha..

Pholon Mai Hoti Hai Khushbu Jis Tarha..

ALLAH Tumhari Zindagi Mai Itni Khushiyan Dy..

Zameen Per Hoti Hai Barish Jis Tarha…

Ramadan Mubarak….
Good Ramadan Messages SMS in Arabic
Want to greet your friends and family in Arabic? Then the common phrases like "Have a blessed Ramadan", and "Ramadan Kareem" don't look appropriate especially when you are wishing to your loved ones. So, this Ramadan, do wish in style. Check Best Ramadan Quotes for 2021.

Ramadan Kareem! (Noble or Generous Ramadan!)
لمسلميناوالأخوات الإخوة لجميع سعيد رمضان
كلعنيعفو الله! الحياة في والسعادة والثروة بالازدهار رمضان روح تبارككم أن نرجو
narju 'an yakun shahr ramadan mthmraan! huna natamanaa lak alhusul ealaa 'afdal hadaya ramadan almubahajat , habi ramadan karim lakam!
Ramadan Mubarak! (Blessed Ramadan!)
Kul 'am wa enta bi-khair! (May every year find you in good health!)
Ramadan SMS in Malayalam
Are you ready to share Ramadan messages to wish your family and friends? The amazing blessed and Holy month brings happiness, peace and lots of good thoughts with it. So do not forget to share the blessings with your dear ones.

ശബത്തിൻറെമുന്തിരിച്ചാട്ടം താഴത്തെ നിലയിൽ
തേൻ തേനും തേനും തേൻ കാമുകനെ സ്നേഹിക്കുന്ന എല്ലാ നല്ല സദസുകളിൽ എൻറെ ഹൃദയം നിറയുന്നു.
Translation:
The grape of the sabbath on the ground floor
My heart is filled with love for all good people who come tomorrow with the love of honey in honey with honey. Happy Ramadan
---
candrakkalatt kāṇunnatupēā

ṟamadān māsattile viśud'dha māsaṁ ārambhikkunnat …

allāhu niṅṅaḷe santuṣṭanākkuṁ

niṅṅaḷuṭe vīṭṭiluṁ ūṣmaḷatayuṁ samādhānavuṁ keāṇṭ kr̥pa nalkuka
Translation:
As the crescent moon is sighted.
And the holy month of Ramadan begins…
May Allah bless you with happiness and
Grace your home with warmth and peace
---
nīyuṁninṟe kuṭumbavuṁ śāntamāya ṟamadān ñān ā

ellā nanmayuṁ niṅṅaḷēāṭeāppamuṇṭ.

niṅṅaḷkkuṁ ellāvarēāṭuṁ oru anugrahamāyirikkaṭṭe.

ṟamadān mubāṟak!
Translation:
I wish you and your family a peaceful Ramadan.
All the goodness wishes are with you.
May you continue to be a blessing to each and every one.
Ramadan Mubarak!
---
വിജയത്തിലേക്കുള്ളതാക്കോൽ ഖുർആൻ പ്രതിഫലിപ്പിക്കുന്നു. റമദാൻ ദിനങ്ങളിൽ നാം എല്ലാം വായിച്ചുകൊണ്ടും അനുഗ്രഹവും മാർഗനിർദേശവും നമുക്ക് കണ്ടെത്താം. സന്തോഷകരമായ റമദാൻ!
Translation:
The key to success is reflected in the Qur'an. May we find blessing and guidance as we recite it altogether in the Ramadan days. Happy Ramadan!
Wishing Ramadan's Arrival
The arrival of this blessed month is, in itself, a very holy occasion. Streets and markets are lit up and the soulful voices of prayers reach every corner through the speakers. On such an occasion, soon after when the Holy moon of Ramadan is sighted sending a message to your love is a kind gesture no one should miss out. Of all the Ramadan wishes, this stands above all. The translated version reads:
Today I pray for contentment to come at your door. I hope it knocks early but stays till late and leaves the gifts of Allah's mercy on you and your family. May concord, love, delight, and good health always stay by your side. Wishing you a blessed and joyful R amadan .
Sending Relevant verses from the Holy Quran
Nothing can be as better as sending a beautiful verse from the Holy book of Allah in order to freshen up the faith of Muslims during this celestially blessed month. If you wish to send Ramadan Messages in Arabic, then any of the affecting verses from the Holy book can serve your purpose. (Must Read Ramadan Quotes from Quran)
However, it is better if you send any of the verses related to fasting or the blessing of the month of Ramadan. Here are some of the translated verses you can send to anyone during Ramadan.
O y ou who believe! Fasting is prescribed to you as it was prescribed to those before you, so that you can learn self-restraint. [al-Baqarah, 2:183]
W hoever of you sights (the crescent on the first night of) the month (of Ramadan), he must observe fasts that month… -[al-Baqarah 2:185]
Prayers for your loved ones to come to the right path
Ramadan is indeed a time for Muslims to reflect on all their wrong deeds and come to the right path fearing the fire of hell and seeking the blessings of Allah Almighty. During those days, nothing can be better than praying for your family to come to the path of forgiveness. Here is a perfect such prayer which was initially sent as in Malay but is being used ever since in almost all languages. The English version reads:
May this sacred month thrust concord to exceed the earth, and let its light enhance this whole world along with rising hope in every Muslim's heart. Let us hope that this holiday will lead us to the correct trail and path of victory, contentment, amity, and affluence. May Allah bless our hearts with the utmost causes of bliss and cheerfulness so that we can enjoy every cathartic instant of this blessed month. Happy Ramadan to you and your family. Wishing you a blessed life forever.
Messages about the Night of Qadar
The last ten days of Ramadan hold special importance to Muslims. On one of the odd nights of the last ten days of this month, Muslims can find the signs for the night of Qadar, praying on which promises endless rewards for them. This saying of our Holy Prophet (PBUH) can be the best option for sending to anyone as this month comes close to bidding farewell:

Holy Prophet (PBUH) said: "Whoever stood for the prayers in the night of Qadar because of his genuine belief and hope for a reward from Allah, then all his previous sins will be forgiven.
What else, other than the forgiveness of sins, a Muslim can ask for?
Send a Ramadan Habit of the Holy Prophet (PBUH)
Muslims try to follow the Holy Prophet (PBUH) in all the walks and shades of their lives and as much as possible. This following is not only a source of an eternal reward from Allah Almighty but is also is of great worldly benefit for Muslims. The practices of the Holy Prophet (PBUH) during Ramadan are very helpful in gaining a perfect reward for Muslims during the month of Ramadan. Some of the messages about such Sunnahs which you can forward to your loved ones could be:
Narrated by Hazrat Aisha(RA): "Prophet (PBUH) never exceeded eleven Rakat in Ramadan or in other months; he used to offer four Rakat– do not ask me about their beauty and length, then four Rakat, do not ask me about their beauty and length, and then three Rakat ".(Bukhari)
The message about observing Aitakaf's SMS
You can advise your loved ones to sit in Aitakaf during Ramadan in a subtle way. A message can be sent about Prophet's teaching about Aitakaf which states:
"The Messenger of Allah, Holy Prophet (PBUH) used to exercise an Aitakaf in the closing ten days of the holy month of Ramadan, and so should we try to do. May Allah removes all the hurdles in our way to follow our prophet (PBUH) and makes this Ramadan a blessed one for all of us."
Verdict
It is surely pleasing to receive Ramadan compliments. The collection of unique images and Ramadan messages are compiled for our readers. So, be the first one to send regards to your family, friends, and loved ones. Remember us in your prayers!!