What're your plans in the upcoming Ramadan! How are you going to say the greetings of this auspicious month in your social circle? Our Ramadan Greetings Messages will help you to pick up the best words for greetings.
Ramadan is the month of blessings and gives a chance to train your soul and body according to the natural and Islamic ways. It refreshes the Emaan and purifies the soul from evil kinds of stuff. So, let's take a new start in this Ramadan to free our hearts from all burdens and to say a happy Ramadan to everyone around us. Ramadan Kareem Greetings SMS Messages will help you in this regard.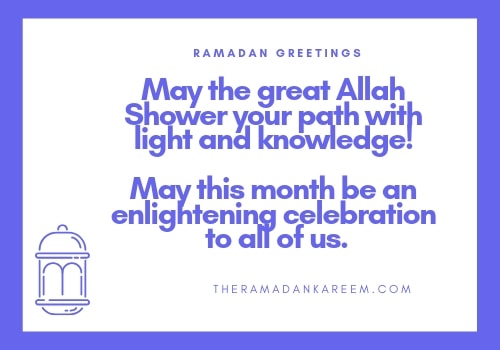 Ramadan Greetings Messages and SMS in English
Let this divine season wash away your burden, Lighten the darkness and ease the pain you may have at this moment. Allah, the Almighty will surely bless you with all the best things in life. Just repent, worship and pray. Happy Ramadan!
---
May Allah always guides you all throughout your journey in your life. I wish this Ramadan will infuse you with courage. That will help you to triumphant over the adversities of life.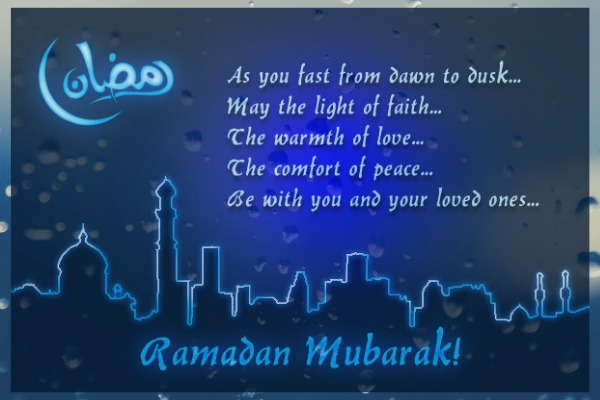 ---
Alhamdulillah, we got the Ramadan once more in our life! You know about the paramount importance of this month. Make proper utilization of these days with TAQWA, Happy Ramadan!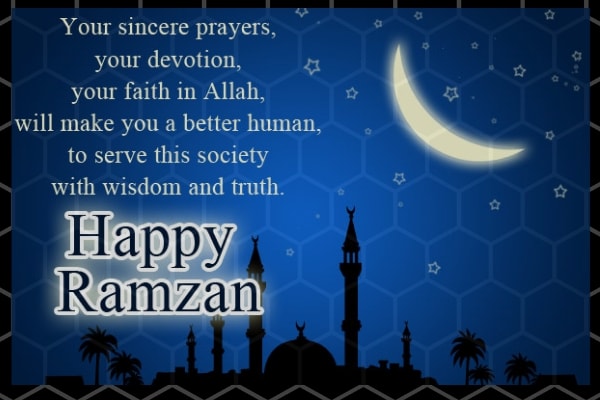 ---
May the great Allah shower your path with light and knowledge! May this month be an enlightening celebration to all of us.
---
My dear, the crescent moon is sighted. And its Ramadan comes again. May the holy Ramadan brings happiness and joys in your life. Happy Ramadan Kareem!
---
I wish Allah gift, you the most brightening Ramadan. I wish to Allah to fill your life with health wealth and joy.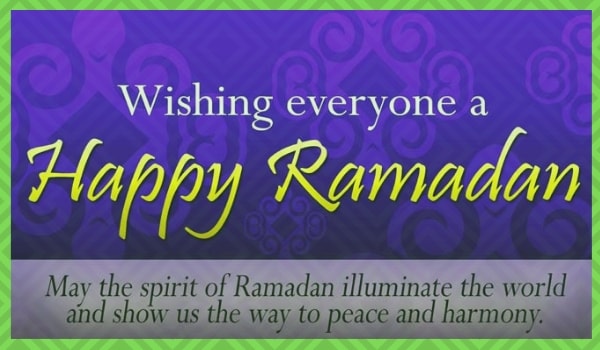 ---
Almighty Allah offered lots of spiritual reward for this month of Ramadan! You must observe fasting and refrain from sinful activities. May Allah bless you and your family! Happy Ramadan Kareem!
---
May this Ramadan enlighten you and clear your understandings and judgment between the right and wrong, between the truths and false. Wishing you a Ramadan Mubarak!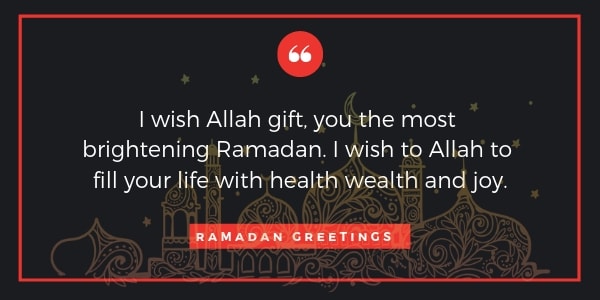 ---
I hope you will achieve the purification of the soul upon commemorating the month of Ramadan. Wishing you a blessed and Happy Ramadan!
---
Start the divine season of Ramadan
with a heart filled with love and peace,
wishing that Allah forgive us for our wrongdoings.
Let this 30-day of Ramadan be the start
of our repentance and enlightenment.
Have a blessed Ramadan!
---
Let 's celebrate as the month of Ramadan begins here. Filling our life happiness and mirth, as Allah bless as once again with prosperity and cheer. Happy Ramadan! The blessed month of the year has come.
---
It' s the season of Ramadan. Fasting, praying
repenting from sins.
Hoping that Allah shower you and you're beloved
with loads of blessings.
Happy Mubarak!
---
Four Weeks of mercy, 30 days of worship, 720 hours of Spirituality. 43,200 Minutes of Forgiveness, 2592000 Seconds of Happiness, Ramadan Kareem Mubarak.
---
May Allah accept your good deeds, forgive your transgressions and sins, and ease the suffering of all people around the globe.
---
I'm wishing you to be showered with loads of blessings
come from our almighty creator Allah.
Have a happy and peaceful Ramadan!
---
That time of the year has come. A month to repent from our wrong-doings and sin. May all of us find peace on this Ramadan! Happy Ramadan Kareem!
---
Ramadan is a time for reflection and purification
Allah sees it all… and sure rewards where the reward is due.
Here's wishing you blessed and prosperous Ramadan.
Ramadan Kareem!
---
As the Qur'an is recited during the Ramadan season, I pray that our hearts and minds agree to what we read and practice it in our lives. It's the doing that counts, not the just mere utterance. Ramadan Kareem!
---
Welcome the month of Ramadan with the heart filled with peace, harmony, and joy. May the divine blessings of Allah protect and guide you.
---
As you pray and fast this Ramadan
May all your wishes come true
Enjoy the long-lasting blessings of Allah.
Ramadan Mubarak!
---
May Allah's immaculate grace and exceptional wisdom conquer your life as you celebrate this holy month of Ramadan. Have a blessed and peaceful Ramadan!
Summary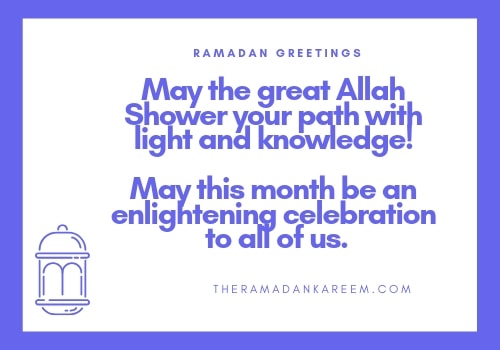 Article Name
Happy Ramadan Greetings Messages
Description
Check out the Ramadan Greetings Messages with text images in Arabic and English.
Author
Publisher Name
Publisher Logo