Looking for some Ramadan Recipes Indian? Yeah! You are at the right place. We have prepared recipes for Indian and Middle Eastern countries which can be cooked easily at home. These dishes are an amazing choice for iftar gatherings.
Try to use a healthy diet in your suhoor and iftar meals, drink enough amount of water and juices after breaking and keeping fast to refresh your body. These Ramadan Recipes Indian are healthy and delicious for your dinner.
List of Indian Ramadan Recipes
We have listed the top 10 dishes for Ramadan which is mostly made and cooked in India and Asia.
Veg Toast Sandwich

Top Pick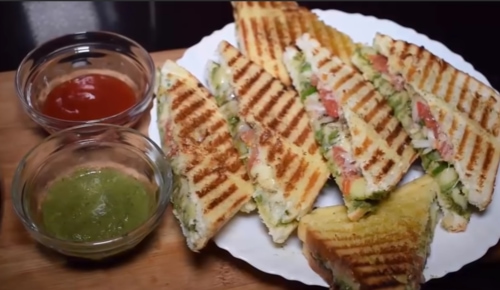 Most people in India are vegetarians and prefer to include vegetables in their diet. This Veg Toast Sandwich is popular street food. We are sharing the recipe of this sandwich so you can make it easily at home as an iftar item.
Ingredients
Slices of bread – 8 to 10.
Tomato – 1 medium size and sliced in small pieces
Onion – 1 medium size and sliced in small pieces
Cucumber – 1 small, Peel off and slice finely.
Beetroot – 1 boiled sliced finely
Potatoes – 1 or 2 boiled peel off and slice finely.
Butter – as required keep on room temperature
Chaat Masala or sandwich spices – to taste
Black Salt – to taste.
For green Chutney
Coriander leaves – ½ cup
Mint leaves – ½ cup
Chat masala powder – ½ tsp
Green chilies – 1 to 2
Salt – to taste
Water – for grinding
How to Make
Green Chutney:
Blend all the ingredients of green chutney in a blender.
Add a little amount of water to make a thick paste like chutney.
Take out chutney in a bowl.
Sandwich:
Cut the bread corners if you want.
After put butter on slices.
Now take 4 bread slices and place all vegetable's slices on them as you need.
Cover these slices with the remaining four slices
Use a hand toaster you can cook one sandwich at a time.
Heat up the toaster and toast one side until it changed its color to light brown.
Do the same for the other
When both sides got brown, take out the sandwich.
Do the same for all other sandwiches
Your sandwich is ready. Serve with the spicy green chutney.
Chana Chaat

2nd Best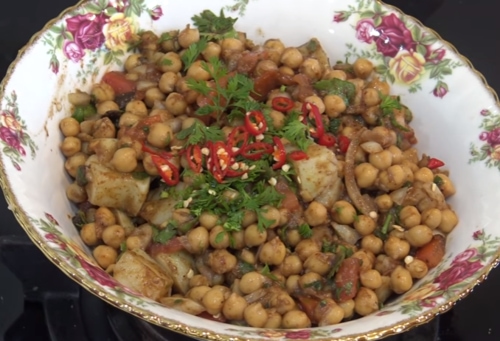 Chana chat is quite popular in India and Pakistan. It's the easiest dish that you can include in the Ramadan menu because the taste of this dish s never disliked. It's also one of the common street foods of Pakistan and India. We are mentioning the recipe of this quick food for you! Try out and soothe your taste buds with the nutrition pack of chickpeas and the spices.
Ingredients
Kabuli Chana – Two cups boiled
Onion and tomatoes – One cup sliced finely.
Green chilies – Two small finely chopped
Roasted cumin seed powder – 1/2 tsp
Red chili powder or pepper powder – 1/4 tsp
Chaat masala – 1/2 tsp
Amchur powder – 1/2 Tsp
Black salt – to taste
Lime juice – Two tsp – freshly extracted
Papdis crushed – Four pieces
Coriander – A sprig – finely chopped for garnishing
How to Make
Boil the grams/channa (chickpeas).
Take them out in a large bowl.
Now add the chopped onion, chilies and tomatoes in a bowl.
Sprinkle the spices and toss.
Add the black pepper and mix or toss.
Pour the lime juice to give a tangy flavor
Now tale the coriander leaves and do garnishing.
Spread the crushed papdis.
The yummy chat is ready to serve. This chaat is eaten fresh.
Mutton Cutlets Recipe for Ramadan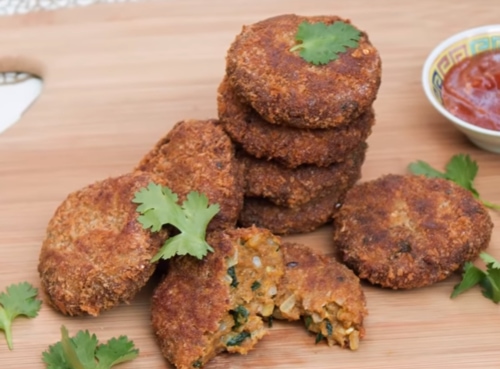 People love to include mutton in their dishes. If mutton is added to vegetables you are going to cook, the taste of your dish will be surprisingly changed. So, let's include a mutton dish in our Ramadan menu.  These mutton cutlets are superb to prepare in an iftar party. If you want to amaze people with your cooking skills and taste then pick these Mutton cutlets from our Ramadan Recipes Indian. We are sure that the unique taste of this recipe will make it favorite dish after trying it.
Ingredients
Mutton – ¼ kg- cooked and minced
Kashmiri red chili powder – One Tsp
Turmeric powder – ¼ Tsp
Garam masala powder – ¼ Tsp
Ground black pepper powder – ¼ Tsp
Ginger garlic paste – ½ Tsp
Green chilies – Two finely chopped
Onion – One large finely chopped
Breadcrumbs – One cup
One egg
Fresh Curry leaves – one sprig
Coriander leaves – 1 tsp – finely chopped
Potato – 1 medium size
Vegetable oil for frying – Four cups
Salt – to taste
Water – One cup
https://www.youtube.com/watch?v=pcGlLDE9Av0
How to Make
Take a pan and add 1 tbsp. of cooking oil.
Add onions and some salt and fry till the onion get soft.
Now ginger and garlic paste in onions and fry for 1 minute.
Sprinkle all the spices and sauté for one minute.
Include the minced mutton and cook for 5 minutes.
Next, include the mashed potatoes and cook for a while.
Add salt according to your taste and mix the mixture well.
Cool the mixture.
Make small round patties
Take the egg in a small bowl and add a pinch of salt in it.
Beat the egg well.
Dip each of the patties into the egg mixture and apply bread crumbs.
Take oil in a frying pan and heat up for a while.
When the oil becomes hot, add the patties in it carefully.
Fry until the patties turn golden brown.
Take out and serve with chutney or ketchup.
Almond Milk/ Badam Milk Dish for Ramadan
The tradition Badam Milk recipe is shared with you. After a daylong fast, if you drink the Badam Milk it will nourish your body in an amazing way. This Badam milk is a great choice for iftar juice as it is healthy, creamy and delicious.
Ingredients
Almonds (Badam) – 20 to 24
Milk – 2 cups or 500ml
Sugar or any other sweetener – 2tsp.
Saffron strands – 1 pinch
Elaichi powder  – 1/8 Tsp
How to make
Soak almonds for 4 to 6 hours OR boil them for 1 minute
It will help you to peel off their skin easily.
Crush saffron by using your fingers.
Take out a ¼ cup of milk for blending almonds.
Take a pan and boil the rest of the milk in it.
Add saffron, elaichi powder, and sugar in while boiling the milk.
Now take the almonds and blend them with ¼ cup of milk that you have separated in step 4.
Add this blend of badam and milk into boiling milk and shake well with a spoon.
Boil for 2 minutes.
Off the flame.
Put in refrigerator for 45 minutes to make it cool.
Serve the Badam milk as Iftar drink.