Wazu ke baad ki Dua:
Every Muslim is directed to perform Wazu before each prayer or before reciting Quran-e-Kareem. There are some norms to perform Wazu and Allah Almighty has also ordered us to recite wazu sy pehly ki dua, wazu ky doran ki dua and wazu ky baad ki dua. Whenever a person recites wuzu ky baad ki dua he is reminded to pray efficiently.
When it comes to wazu one must perform each step of wazu to make it effective and these Duas are part of Wazu. Once a Muslim is done with wazu he/she must look above in the sky with their index finger pointing towards the sky and recite the Dua before talking to anyone.
When you have performed wazu recite this Dua.
اَشْھَدُاَنْ لَّا اِلٰہَ اِلَّا اللّٰہُ وَحْدَہ لَاشَرِیْکَ لَہ وَاَشْھَدُ اَ نَّ مُحَمَّدًا عَبْدُہ وَرَسُوْلُہ اَللّٰہُمَّ اجْعَلْنِیْ مِنَ التَّوَّابِیْنَ وَاجْعَلْنِیْ مِنَ الْمُتَطَھِّرِیْنَ۔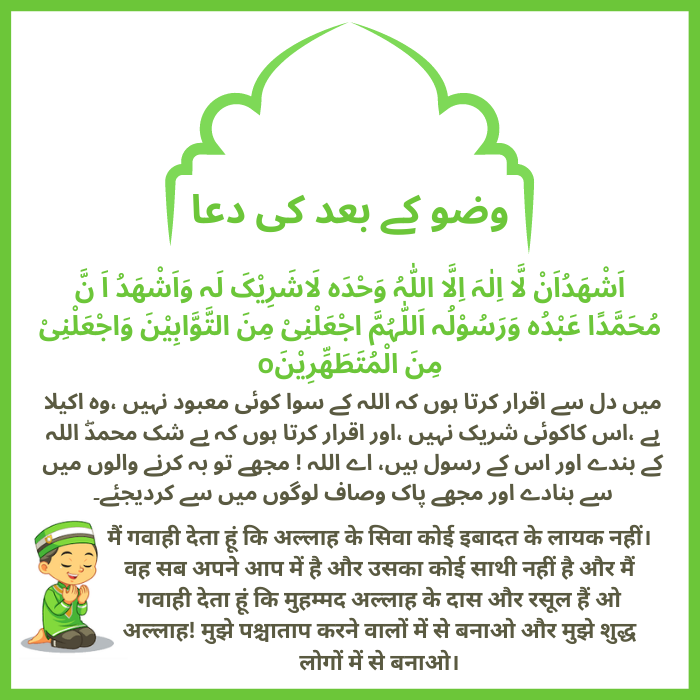 Wazu ke baad ki dua in urdu:
It is effective to learn wazu ke baad ki dua with tarjuma to not only understand but to add value to your prayer. As the Prophet (S.A.W) says that the foreheads of those who performed wudu will be shining on the day of judgment. Imagine if a Muslim adds up these prayers to Wuzu what wonders will it do on the day of Judgement?
Wazu ke baad ki dua ka tarjuma is:
میں دل سے اقرار کرتا ہوں کہ اللہ کے سوا کوئی معبود نہیں ،وہ اکیلا ہے ،اس کاکوئی شریک نہیں ،اور اقرار کرتا ہوں کہ بے شک محمدۖ اللہ کے بندے اور اس کے رسول ہیں، اے اللہ ! مجھے تو بہ کرنے والوں میں سے بنادے اور مجھے پاک وصاف لوگوں میں سے کردیجئے
You can also remember the Arabic wazu ke baad ki dua tarjuma ke sath۔
Wazu ke baad ki dua in English:
If anyone has difficulty understanding the meaning of Wuzu ki dua in English he/she can understand it through its English translation and also download wazu ke baad ki dua pdf for your daily use. wazu ke baad ki dua full in English is as follows.
I bear witness that none has the right to be worshipped but Allah alone, who has no partner; and I bear witness that Muhammad is His slave and His Messenger. O Allah, make me among those who turn to You in repentance and make me among those who are purified.
If you want to yield the best results out of your efforts for Allah you must recite wuzu ke baad ki dua full.
Wazu ke baad ki dua in Hindi:
A muslim must learn wazu ke baad ki dua in hindi as well as in Roman English. Firstly, wazu ke baad ki dua hindi mein is as follows.
मैं गवाही देता हूं कि अल्लाह के सिवा कोई इबादत के लायक नहीं। वह सब अपने आप में है और उसका कोई साथी नहीं है और मैं गवाही देता हूं कि मुहम्मद अल्लाह के दास और रसूल हैं
Wazu ke baad ki Dua in Roman English:
Mai gawahi deta hoon ke Allah Ta'ala ke siwa koi maabood nahi wo akela hai koi us ka shreek nahi aur mai gawahi deta hoon ke Muhammad Peace be upon him us bande aur rasool hain.
Witr namaz ke baad ki Dua
Bahz bin Asad, said:
Shu'bah narrated to us, from Salamah and Zubaid, from Dharr, from Ibn Abdur-Rahman bin Abza from his father that the Messenger of Allah (ﷺ) used to recite in Witr:  Glorify the Name of your Lord, the Most High;  and  Say: O you disbelievers!;' and 'Say: He is Allah, (the) One.' And when he said the taslim, he would say: Subhanal-Malikil-Quddus (Glory be to the Sovereign, the Most Holy) three times, raising his voice the third time.
It is important to recite witr namaz ke baad ki dua
FAQs:
What breaks a woman's wudu? 
A wudu can break due to urination, menstruation, after postpartum or sexual intercourse.  
How do you pray wudu prayer? 
One can pray by following these steps. 
1) Firstly, you should perform niyyah for wudu. 
2) Wash both of your hands three times. 
3) Now put some water in your mouth and wash your nose by slightly inhaling water inside it. 
How many Rakkahs are in Wudu? 
There are two Rakkah's for Wudu prayer that is considered a blessing for a Muslim as they add up to their blessings. 
Conclusion:
Wazu Ke Baad Ki Dua is a simple yet powerful reminder of the importance of making Duas for oneself, one's family, and the entire community. It is an important part of our daily routine and we should make sure to include it in our prayers. This dua serves as a reminder that Allah is ever-present and listening to our needs and desires. It is a reminder to stay connected to Allah and to keep our faith strong.