With the recent rise in inflation, many Pakistani citizens seek foreign employment to meet their basic needs. But aside from skills, there are some legalities to follow before applying for a visa to a foreign country. Moreover, the Bureau of Emigration & Overseas Employment makes it compulsory for Pakistani citizens to complete the visa protection registration process.
We are here to help you if you travel internationally to pursue a brighter future. This article outlines the Visa Protector process, the documents required, and the registration fee.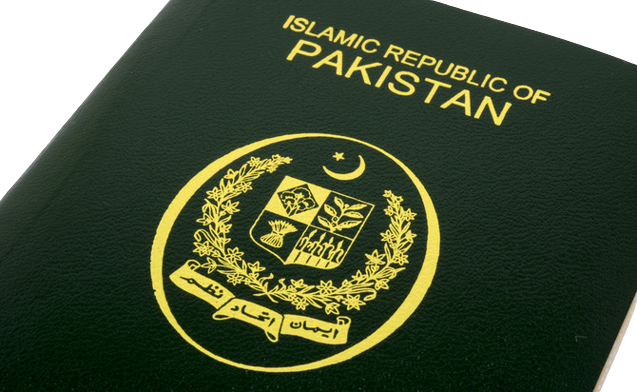 Visa Protection: Overview
Getting a visa protection stamp from the Protectorate of Emigrants on your passport makes you eligible to work abroad. So, if you have a valid work visa, get a visa protection stamp on your passport quickly.
In other words, a valid work visa will only let you leave the country with the protected stamp. Additionally, there are many benefits of this visa protection stamp. Nevertheless, you are now among the registered Pakistani immigrants and have the right to access other services, such as health insurance.
How to get Visa Protector? – A Step-Step Guide
You may need a visa protection stamp if you travel overseas for work, as this proves that you are legally permitted to be in the country.
Currently, there are two main pathways for Pakistanis looking to work abroad to register for mandatory emigrant protection – direct registration and registration through an employment promoter. Here is a step-by-step explanation of both processes: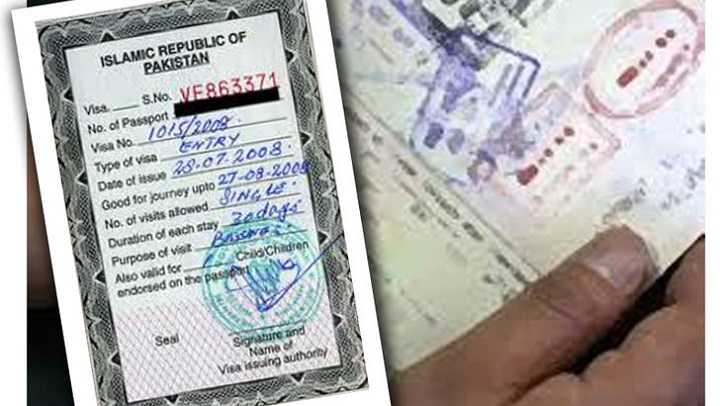 Method 1: The Direct Registration Process
The direct registration process for emigrant protection in Pakistan requires intending workers to independently complete all registration steps with the government's Bureau of Emigration and Overseas Employment.
Emigrants can use this pathway to handle everything directly without an employment promoter. It involves submitting documents, attending orientations, and collecting passports certified by the Bureau. Immigrants who want protection certification through direct registration need to follow a step-by-step process.
Step 1: Gather the Required Documents
To avoid delays, you must possess the following documents before applying for a visa protection stamp.
Step 2: Submit Documents for Verification
In the next step, submit all your documents in person to your nearest Bureau of Emigration and Overseas Employment (BEO) office for thorough examination and verification.
Step 3: Attend In-Person Orientation Briefing
Following clearance of your documents, you must attend a mandatory in-person orientation briefing session. It covers comprehensive health and safety information, your rights as an emigrant worker, how to get assistance, and other vital details you need to know before departure.
Step 4: Get registered and your passport stamped
To complete the registration process, you must deposit the registration fee in the same building bank, and the Protector of Emigrants will stamp your passport to show that you have paid the fee.
Step 5: Collect Verified Passport
During the briefing, the Protector of Emigrants will sign and stamp your passport, and you will be able to collect your passport, stamped documents, certificates, and registration protection receipt from the Office of the Protector of Emigrants.
Method 2: Registration Through an Overseas Employment Promoter
Overseas employment promoters help emigrants with protection registration. On the emigrant's behalf, these promoters handle document submission and collection with the Bureau of Emigration. However, the emigrant must still attend the in-person briefing and complete the passport verification process.
Emigrants can simplify the process by using overseas employment promoters. Here are the steps they need to take.
Step 1: Submit Documents to Registered OEP
First, submit all required documents to a Bureau of Emigration registered Overseas Employment Promoter to assist with your application, which includes the following:
Step 2: Attend the Orientation Briefing
The OEP will verify your documents and guide you to attend the mandatory government briefing covering rights, health, safety, etc. The briefing will give you essential information about country life, like cultural and language programs.
Step 3: Get your Passport Stamped and Verified
In the briefing, the OEP will coordinate with the Bureau to enter your registration into the system and have the Protector of Emigrants stamp and sign your passport at the meeting.
Step 4: Collect Documents from OEP
Last but not least, the OEP will assist you in obtaining your stamped passport, registered papers, and any other documents required from the Bureau on your behalf. These protection certificates will be delivered directly to you by the OEP.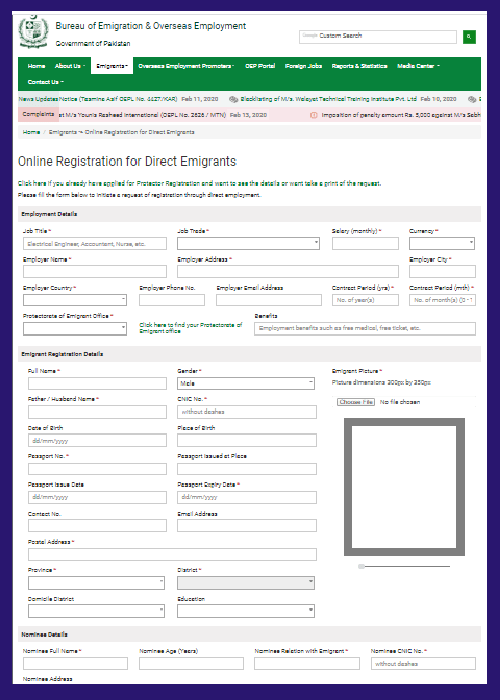 Pakistan's Emigrant Protection Fees
Emigrants must pay several mandatory fees to obtain certified protector stamps on their visas in Pakistan. The Visa Protector fees include:
Overseas Pakistani Foundation (OPF) Welfare Fund
A non-refundable fee of Rs. 2,000 is payable by all emigrants to the OPF Welfare Fund. This fund provides social welfare benefits to overseas Pakistanis.
Insurance Premium
Emigrants must purchase a mandatory insurance policy, which costs 2,500 rupees per person. The insurance policy provides life insurance and other protections to emigrants.
Bureau Registration Fee
A registration fee of Rs. 2,500 is due to the Bureau of Emigration. This fee covers administrative processing and verification of documents.
Overseas Employment Corporation (OEC) Fee
An OEC fee of Rs. 200 is payable at the time of application to contribute to overseas employment promotion.
Total Protector Fees in Pakistan
Adding up the required protector fees emigrants must pay when registering comes to Rs. 7,200. Payment will result in the issuance of registration certificates and protection visa stamps.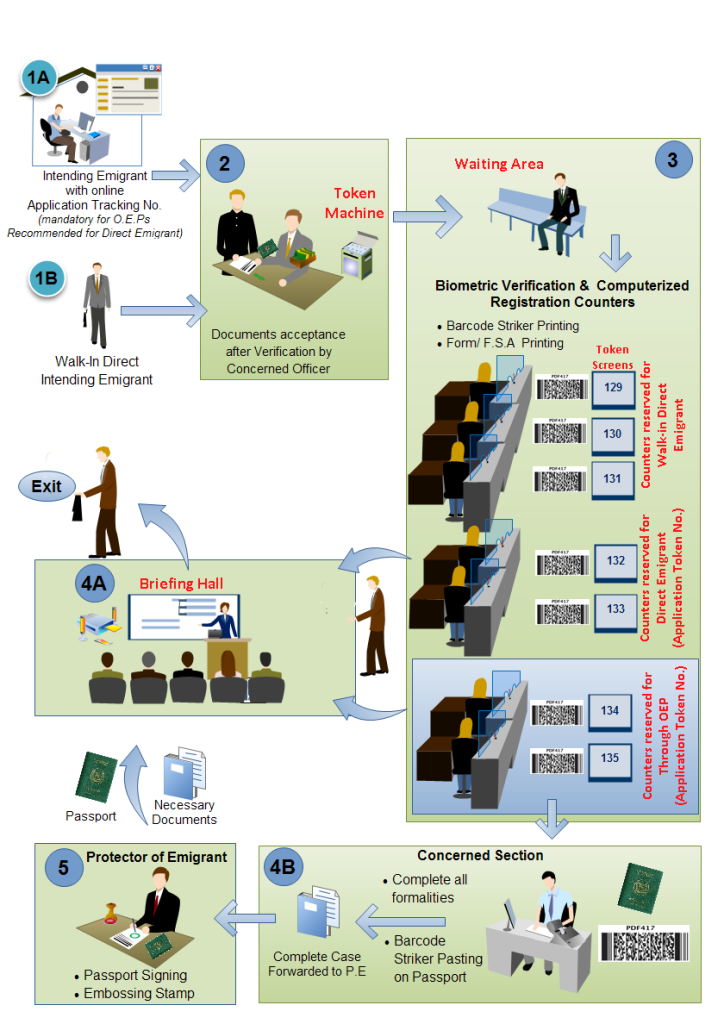 Conclusion
To summarize, you need a visa protector if you plan to work abroad. Make sure you've got all your paperwork and fees ready, and follow the steps outlined in this guide to get your visa protected. Obtain a passport stamp to receive health insurance and other benefits.
REF: https://beoe.gov.pk/how-to-get-emigrants-protection