Let me Wish you all the Ramzan Mubarak with great Ramadan Wishes in English, Urdu, Hindi, and Arabic with real feeling. You may also send these best Ramadan Kareem wishes to your friends and family members with great images too. Upon Ramadan's moon sight, there's a great commotion around not only the city but on people's social media accounts. Everyone starts wishing well for each other and the cycle of forwarding messages from one person to different groups of people over Whatsapp, Instagram stories and Text messages start stirring.
Best Ramadan Kareem Wishes in English
Here are some of the wishes you can send in English: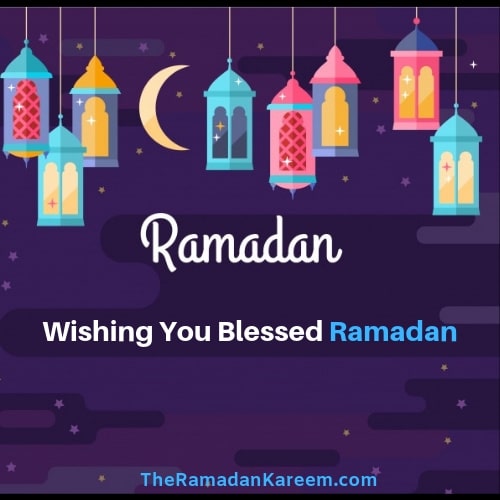 Happy Ramadan, I hope you spend this month struggling in the way of Allah tala so you can avail full opportunities this month for different ways of blessings.
I hope this Ramadan reaches you in the best state of health and Imaan. May your fasts and Ibadah be accepted by Allah tala and may you be able to enjoy this month in the aspect of worshipping and obeying Him as He should be throughout the year. Ramadan Mubarak!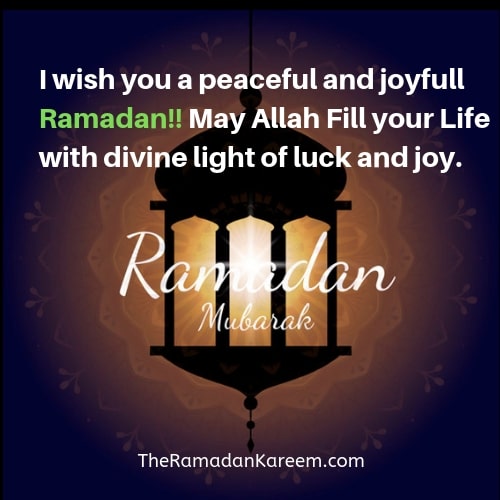 Ramadan Kareem!! I wish and pray for you nothing but that you get everything best in this world and the world hereafter. May all your wishes and Duas be accepted and may Allah SWT grant you happiness and protect you from left and right, above and bottom. Have a blessed Ramadan!
Ramadan Mubarak! On this beautiful month's arrival, I close my eyes and pray that you get what your heart wishes. In the first ten days, I pray that you're blessed immensely and may He SWT keep you under His Rahma/mercy. In the middle ten days I pray that Allah tala has forgiven you for your past and present and for the future. And in the last, I wish nothing but for you to be saved from hellfire in the world hereafter. May Allah SWT always guide you and be with you as a protector. Aameen.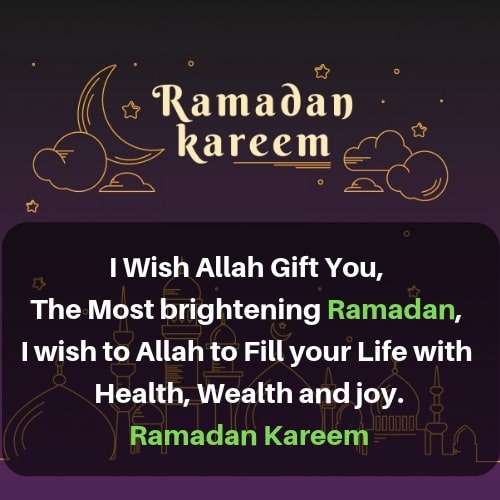 On this blessed occasion of Ramadan's moon sighting, here's a hadith to brighten up your Imaan:
Abu Hurayrah reported that the Messenger of Allah (peace and blessings be upon him) said:
Every action a son of Adam does shall be multiplied—a good action by ten times its value, up to 700 times. Allah says: With the exception of fasting, which belongs to Me, and I reward it accordingly. For, one abandons his desire and food for My sake.
There are two occasions of joy for a fasting person: one when he breaks his fast, and the other when he meets his Lord, and the (bad) breath (of a fasting person) is better in the sight of Allah than the fragrance of musk. (Al-Bukhari) 
Happy Ramzan Mubarak Wishes in Urdu
Aap ko Ramzan bohath Mubarak ho. Umeed hai k iss saal ka ramzan pehle se acha guzrey ga apka. Allah apki tamaam ibadat ko kabool karein aur saray rozay achay se guzrein.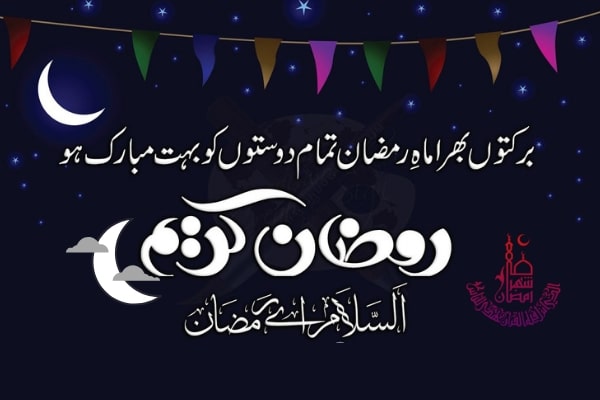 Allah iss Ramzan ko tamaam musalmaano k liy bakhshish ka zariya banaen aur rehmaton se zindagian bhar dein. Ramzan Mubarak apko aur apke ghar walo ko!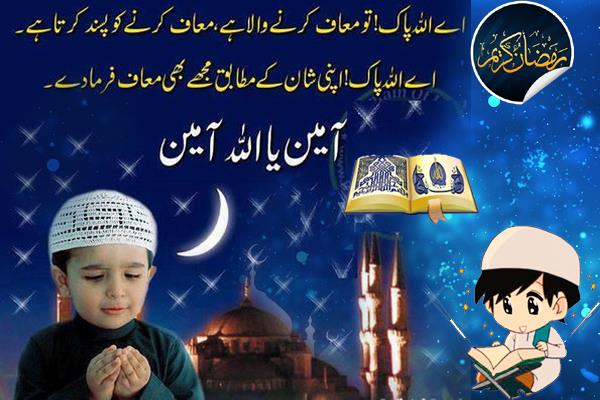 Ramzan Mubarak! Allah iss mahinay ki barkaton se apko bharpoor lutf andoz karein aur apki tamam jaez khuwahishat puri krein. Allah karay ye ramzan apka har guzry huy ramzan se behtar ho. Duaon mai yaad rakhiyega.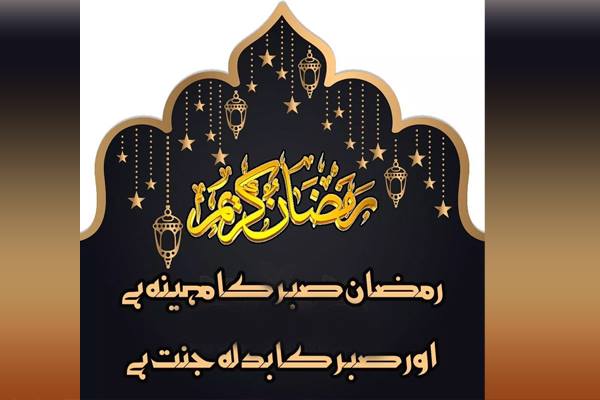 Ramzan ki amad Mubarak ho! Allah apko iss mahinay asi neend se bachaeyn jis se fajar ki namaz kaza ho, asi susti se bachaeyn jis se zuhr ki namaz kazaa ho. Aur asi ghaflat se bachaeyn jis se asar kaza ho, assay aram se bachaeyen jis se maghrib rehjaye aur asi kahili se bachaeyn jis se isha rehjaye,aameen! Duaon ki talabgaar.
Hazrat Abu Hurayra R.A se riwayat hai k Hazoor SAWW ne farmaya:
"Jo aadmi roza rakhty huy apne kirdaar aur guftaar mai jhoot na chorray, thoh Allah t'ala ko uske bhookay piyase rehne ki koi zaroorat nahi." (Al-Bukhari)
Allah t'ala se du'a hai k is ba barkat mahinay mai hum chotay chotay jhoot se bachayn chahy wo zubani ho ya challan. Aameen. Ramzan Mubarak!
Ramzan k iss ba barkat mahinay k aghaz mai apke li yak hadith e nabwii SAWW ka tohfa:
Hazrat Abu Saeed Khudri se rawayet hai k mai ne Rasool Allah SAWW se suna k "Jis aadmi ne aik din Allah t'ala k rastay mai roza rakha, Allah t'ala dozakh ki aag ko uske munh se 70 saal ko musafat tak duur karyga." (Sahih Muslim)
Ramadan Kareem Wishes in Arabic
If you are looking for Ramadan wishes in Arabic with images and text. You may like our new created HD images to share with your Arabic friends. هنا يتمنى رمضان باللغة العربية للمشاركة مع العائلة.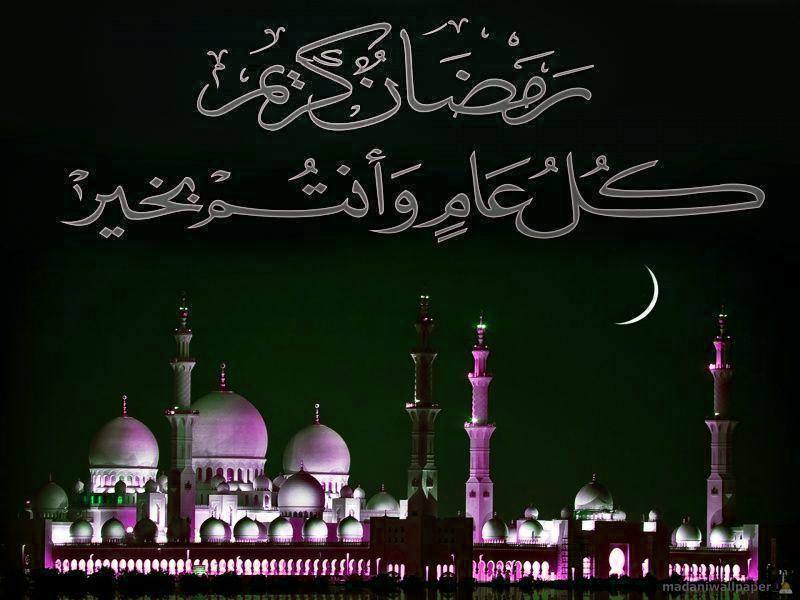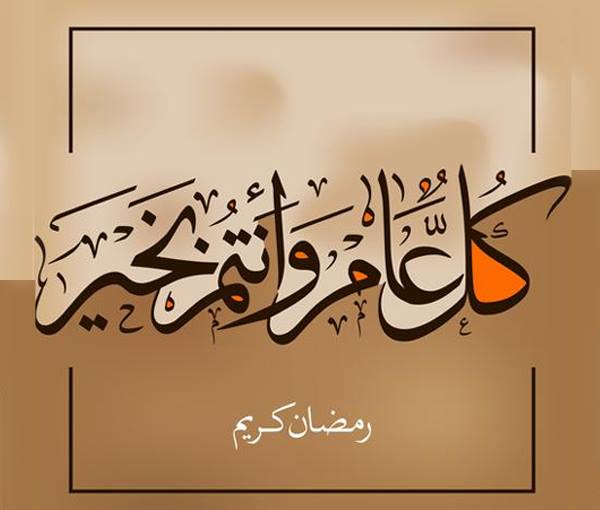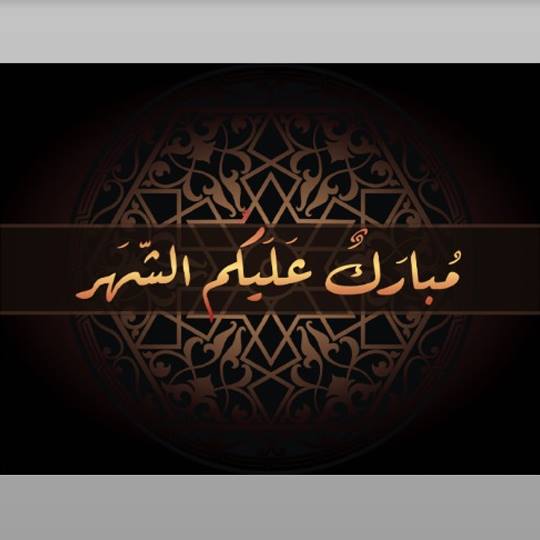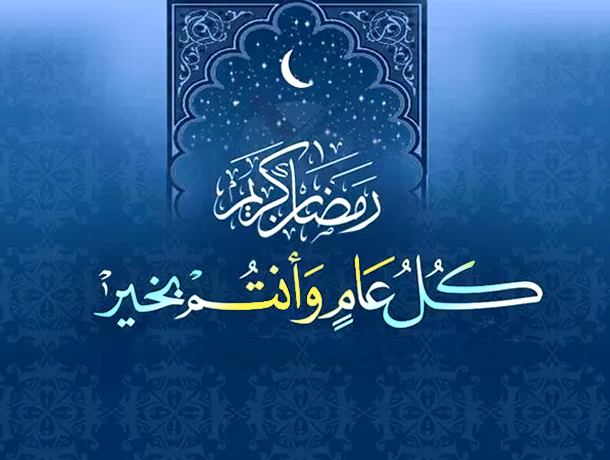 Happy Ramadan Wishes in Tamil Images
As we see no one ever shared wishes in Tamil language and people are struggling to find in their language. So, we have made a part of our website for them.