Waiting for Iftar but want to cook a quick and Easy Ramadan Recipes for Iftari? Ramadan is a month of fasts and feasts. This year Ramadan is coming in summer with long days and shorter nights. After fasting for 16 or 17 hours, the human body needs enough amount of energy to work properly and it's a tradition to prepare different dishes for Iftar. In summer, it's not an easy task to stand in Kitchen for preparing multiple dishes while observing fast. So, we are here to solve the issue and came up with some Easy Ramadan recipes for you. You can pick any dish from these Ramadan Recipes to make during Iftar feasts.
Go ahead to take a look at these quick Ramadan recipes and foods!  You can also make and freeze these dishes before Ramzan 2022. All of the Recipes are perfect in their taste and have enough nutrition levels.
Here are our featured articles on Ramdan food ideas. Visit of your needs.
Dry Fruit Milkshake Recipe for Ramadan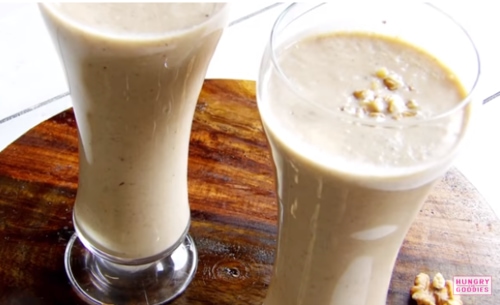 Nothing is more nutritious than milk and dry fruits. So, break your fast with a Glass of Dry Fruit Milk Shake. Making this healthy milkshake will not take much of your precious time. You can easily prepare it while cooking some other dishes.
Ingredients
7 to 8 unseeded Dates
2 to 3 dry Figs
¼ cup Walnuts
¼ cup Almonds
Hot Water
2- ½ cup chilled Milk
Honey
How to Make
Soak all dry fruits in hot water for half hour, each in a separate bowl.
After 30 minutes, take all dry fruits out from water and peel off the skin of almonds.
Now transfer the dry fruits into Blender and add 1 tablespoon honey in it.
Add a half cup of chilled milk in Blender and Blend. It will take a bit of time to blend.
After this step, you will get a thick paste.
Now add the rest of the milk and blend again.
After Blending, put it in your glass
BATATA VADA IFTAR RECIPE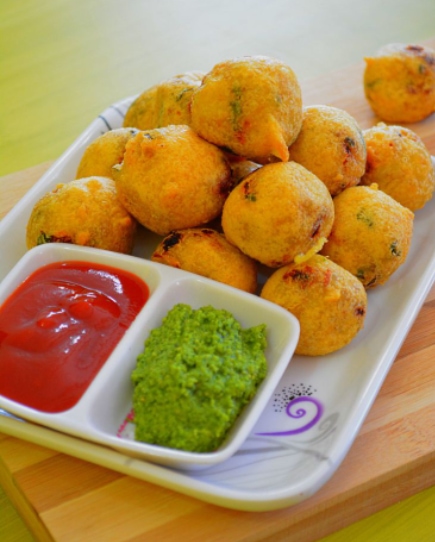 Ingredients:
For the potato filling:
4 large potatoes, boiled and mashed
1 onion, finely chopped
1 green chili, finely chopped
2 tablespoons coriander leaves, finely chopped
Salt to taste
Red chili powder to taste
Garam masala powder to taste (optional)
For the batter:
1 cup gram flour (besan)
Salt to taste
Red chili powder to taste
Water as required
Oil for deep frying
Instructions:
1. In a bowl, mix together all the ingredients for the potato filling and set aside.
2. In another bowl, mix together all the ingredients for the batter and set aside.
3. Heat oil for deep frying in a pan over medium heat.
4. To make the Vadas, take a small portion of the potato mixture and shape it into a ball.
5. Dip this ball into the batter so that it is evenly coated.
6. Carefully drop it into the hot oil and fry till it is golden brown in color and crisp all over.
7. Remove from the oil using a slotted spoon and drain on absorbent paper.
8. Repeat with the remaining potato mixture and batter to make more Vadas.
9. Serve hot with chutney or ketchup.
Corn Cheese Balls Ramzan Recipe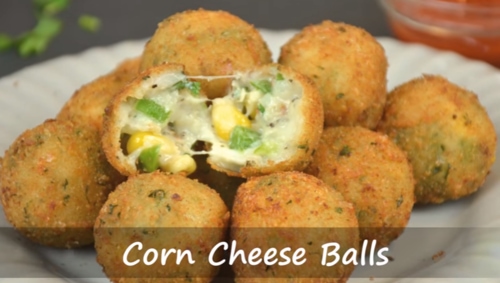 This easy Ramadan recipe of Corn Cheese Balls will be a perfect choice for your Iftar Snacks.
Ingredients
Potato boiled – 1 big
Boiled corns – 2 tbsps.
Capsicum – 2 tbsps.
Coriander leaves
Mozzarella cheese – ½ cup
Chili Flakes – ½ tbsps.
Basil – ½ Tsp
Black pepper – ½ tbsps.
Salt – according to taste
Corn Flour – 2 tbsps.
Oil
Refined Flour (Maida) – 2 tbsps.
Bread Crumbs
How to Make
Put all ingredients in a bowl except refined flour and Mix well.
Apply oil on hands.
Take a small quantity of the mixture and give it the shape of the ball. Do the same for remaining mixture.
Now take refined flour and water to make a thin paste of it.
Dip the balls into the thin paste of refined flour and spread the bread crumbs.
Put in refrigerator for 30 minutes.
Put in hot oil and fry until it became brown.
Take out in a dish and serve with ketchup.
Afghan Salad (Salata) Food for Ramadan
This Afghan Salad is not just easy to make but also healthier. Eat this Salata in iftar and get back all of your lost energy.
Ingredients
Three Tomatoes
Baby cucumber
1 sweet Onion
Cilantro – ¾ cup of freshly chopped
Lemon juice – 3 tbsp.
Salt – According to your taste
How to Make:
Peel and chop all vegetables.
Combine all vegetables well, and toss together.
Pour the lemon juice and sprinkle salt according to your taste.
Now, toss again and put in refrigerator for an hour.
Garnish with cilantro and serve.
Shami Kabab Ramdan Food
Wow! A well-known dish of Pakistan. Most of the women make and freeze these Kabab's before Ramadan to use in Iftars. Follow this easy Ramadan Recipe for Shami Kabab to learn how to make these tasty Kabab's at home. We are sure you will love the taste of these Shami Kabab.
Ingredients
Water – 4 cup
Mince (Qeema) beef – ½ kg.
Split Gram (Channa Dal) – 250 gm.
Onion – 1 medium
Button red chilies – 12 to 15 OR to taste
Cinnamon stick (Dar Chini) – 2 big
Black cardamom (Bari Elaichi) – 3
Salt – 2 tbsp OR to taste
Turmeric powder (Haldi) 1 tbsp.
Black pepper corns (Kali mirch sabut) – 8 to10
Ginger garlic paste (-Adrak lehsan paste) – 2 tbsp.
Coriander seeds (Dhania) – 1 tbsp.
Cumin seeds (Zeera) – 1 tbsp.
Green chilies (Hari Mirch) – 4 to 5
Mint (Podina) – ½ cup
Fresh coriander (Hara dhania) – ½ cup
Eggs (Anday) – 2 to 3
Oil for frying
How to Make
Add water, beef mince, split Bengal gram, onion, button red chilies, cinnamon stick, black cardamom, salt, turmeric powder, black peppercorns, ginger garlic paste, coriander seeds and cumin seeds in pan or pressure cooker.
Wait until it boils.
Then cook for 30-35 minutes on low flame.
If you are using a pressure cooker, cover and cook for 10 minutes.
Cook until water dries and lets it cool.
Add green chilies, mint and green coriander, grind in a chopper to make a coarse paste.
Add mince mixture and eggs.
Now grind the ingredients well in a food processor.
After grinding the stuff, make kabab/patties of the mixture with hands.
Heat oil in frying pan and fry the kabab/patties.
The Shami kababs will be ready for iftar.
Serve it with Ketchup.
Grilled Chicken with Herbs – Snacks Recipe
A perfect protein-powered dish with low fats. Grilled Chicken will be the best dish for the Iftaar feast.
Ingredients
150 gm MILKPAK Yogurt 150 gm
Chicken Breast (cut in half and hammered slightly) – 500 gm
Rosemary – 1 tbsp.
Thyme – 1 tsp
Olive oil – 2 tbsp.
Lemon juice – 3 tbsp.
Salt – 1 Tsp
Black pepper (crushed) – 2 Tsp
Garlic cloves (chopped) – 1- ½ tsp
Oregano – 1 tsp
Crushed red chili – 1 Tsp
Ingredients for fried Vegetables
Potatoes ( julienne cut & Steam )
Pea(Steam )
Carrot ( julienne cut & Steam )
Potatoes ( julienne cut & Steam )
Phalian (cut & Steam )
Black pepper – 1 tbsp.
How to Make:
Mix all ingredients in a bowl.
Add chicken breasts and marinate for at least 2 hours
Grill chicken on medium-high (approximately 6 minutes per side).
Serve with potato salad, grilled corn, or any other favorite summer side dishes.
Grill the vegetables on grill pan by adding olive oil salt, black pepper.
Other Easy Ramadan Recipes ideas
Lamb Stew: This rich and flavorful stew is a traditional favorite during Ramadan.
Grilled Chicken: This healthy and flavorful chicken recipe is perfect for a quick meal.
Quinoa Salad: This light and refreshing salad is full of healthy ingredients, making it a great option for breaking the fast.
Chickpea Soup: This hearty soup is packed with protein and fiber, making it the perfect meal to break the fast.