Want to get the idea about Ramadan Tent 2022?  So, let's take a deep dive into Ramadan Tent in UAE, Sudia, Qatar and other countries.
Ramadan Tent – Ewaan at The Palace Downtown

Dubai
Join the suhoor and iftar at Ewaan Ramadan Tent and you will love the wonderful views of the Dubai Fountain and Downtown Dubai. Taste the rich and traditional flavours of Arabic foods, refresh your mind by listening to the melodies of Arabic oud and check the Arabic savours mixed with international flavours.  You would surely love the tastes of fried baby marrow with yoghurt tahini, roasted quail with sumac and a tender chicken tagine. Ewaan also offers different discounts for people of different ages in the first week of Ramadan.
Contact No: +971 4 888 3444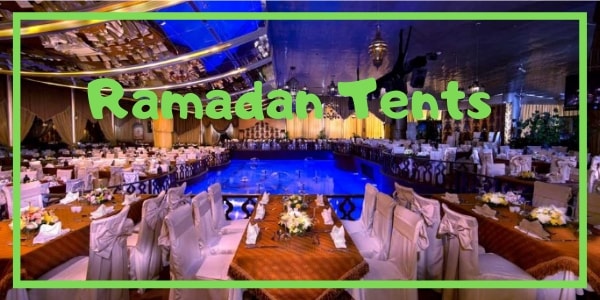 Tent in Al Majlis at

Madinat Jumeirah
Location: Madinat Jumeirah
Price: Dhs225 (per person) and à la carte for suhoor.
Contact No: +971 4 366 8888
The mesmerizing interiors of this Ramadan tent 2022 will reward you with unforgettable family time. If you hesitate to sit in a rushed area then there are VIP areas where you can have privacy for your family. This ever-popular Ramadan tent is located at the striking Madinat Jumeirah complex. The complex is turned into a unique settled area surrounded by traditional architecture. Don't be late and book a spot for you. If you don't do it now you might not be able to join Dubai's most sought-after Ramadan palace.
We are sure that you are going to love this spot due to its iftar feasts with nearby marketplaces to go for Ramadan evening shopping and live cooking stations.
Ramzan Tent in Asateer at Atlantis, The Palm
This Asateer at Atlantis, The Palm tent has managed the reputation of being the best among all its other competitors in Ramadan. The services of The Palm never go under expectations and each year it comes with more mesmerizing offers such as traditional oud players, separate rooms to offer prayers, games and some other glamorous items. This tent makes it clear that Ramadan brings a lot more than just good food.
Location: Atlantis, The Palm
Price: Dhs240 (iftar buffet per person)
Contact No: +971 4 426 0800
Al Falak Ballroom at Burj Al Arab
Want to enjoy a premium iftar deal in Dubai with luxuries' packs? If yes! Then this Ramadan tent is best suited for you. This luxurious place with a magnificent view of the Arabian Gulf changes the Al Falak Ballroom into a peaceful Ramadan setting.  The mesmerizing twinkling lanterns will illuminate your mood and the lavish buffet will satisfy your palate with tasty grilled Kababs and fresh Salads.
Contact No: +971 4 301 7777
Al Hadheerah Tent at Bab Al Shams
Want to enjoy a variety of foods in this approaching Ramadan? Go for the Al Hadheerah Tent at Bab Al Shams to enjoy a variety of Emirates, Egyptian, Syrian and Lebanese cuisines.  You will be amazed by the tastes of these foods and on-site barbecue stations.
The shawarma counters and Arabic bread baking stalls will also facilitate you. So, hurry up and book a spot to enjoy the Ramadan ventures at this signature restaurant.
Contact No: +971 4 809 6194
Make a Plan with your family and must-visit these Ramadan Tents in Dubai and we assured you that it will miss these places after Ramadan. Hurry up because there is not much time left in the closing of bookings.
Iftar at Dubai Opera
Where: Dubai Opera
Price: Dhs290 per person
Phone: (04 440 8888).
Tents in Qatar for Ramadan
If you're unfamiliar with the culture in Qatar in Ramadan, we'll tell you a bit about Ramadan tents in Qatar. So, every year, during the month of Ramadan, there are places and tents indoor and outdoors where a large gathering of people takes place for suhur and iftar. Thousands of people eat, drink and have shisha in these tents. There are terrific meals, outstanding qualities of food and different, hundreds of varieties of food in these tents. It gives an image of a lavishing, expensive buffet ranging from spicy, salty, savoury foods as well as different beverages and drinks along with numerous desserts from all over the world.
These tents take place in Hilton; Doha, Doha Hotel and Residencies, Sheraton Grand Doha Resort and Convention Hotel, The Westin Doha Hotel and Spa, Grand Hyatt Doha (The Ramadan tent in Doha), Intercontinental Doha Hotel and Residencies, Al Jawahar Ballroom, as well as AlJalsa Garden lounge, The Square and The Marriott Marquis City Center Doha Hotel.
Ramadan is going to start on the 24 of April.  With the start of Ramadan, Schedules changed according to the Ramadan timetable. The working hours are shortened. The public spend the daylight hours in a quiet manner. But at the time of fast-breaking, the rhythm changed and people became active with a fresh zeal.
They came out from their houses and gather in Ramadan tents and enjoy the cultural celebrations, competitions and join the competitions. The shopping malls glow up as people go for shopping, eating and have fun by doing cheerful activities. Ramadan tents are common in Middle East countries and can be found at places where Muslim communities are living. People come to Ramadan tents to do iftar and spend some time with family, friends, and neighbours.
The beautiful definition of Ramadan tents by a journalist of Jordan makes the concept of Ramadan Tents clear:
"Under the fluffy colourful ceiling of the big tent, you can treat yourself and friends to various types of sweets, entertainment, and distraction until the very early hours of the morning, while playing game after game of cards. A musical band with a leading singer can play classical pieces of Arab music. … Waiters are dressed in special 19th- or 18th-century attire with the red cylinder-shaped hat better known as "tarboosh." They offer you, in addition to the very popular argeelah, a rich assortment of little snacks."
When the Ramadan season arrives, some restaurants also arrange Ramadan tents to attract more customers
These tents are most common in Dubai and Jordan. We are here with a list of Ramadan tents 2022 that you can visit during Ramadan. This Ramadan let's take a break from our busy lives to must visit these Ramadan tents to gather some beautiful memories of Ramadan.
Rates are different for every tent and place in the whole of Qatar. You can rent a whole ballroom for your guests if you want in any of these hotels and places. Private dining and private events/ tents take extra charges to form. If you're looking for a luxurious iftar party there, you gotta have the heart on your sleeve to spend that much money for yourself and your loved ones!