Do you want to learn life about Hazrat Imam Hussian (RA)? Some of the best Quotes of Imam Hussain are some something that will learn you good in your life. We also collected best list of poetry from Him as well.
Check Muharram Ul Haram Images, Status, Duas>>
Quotes about Imam Hussain
Wars can be won by using guns and violence but hearts can only be won through strong character and pure manners.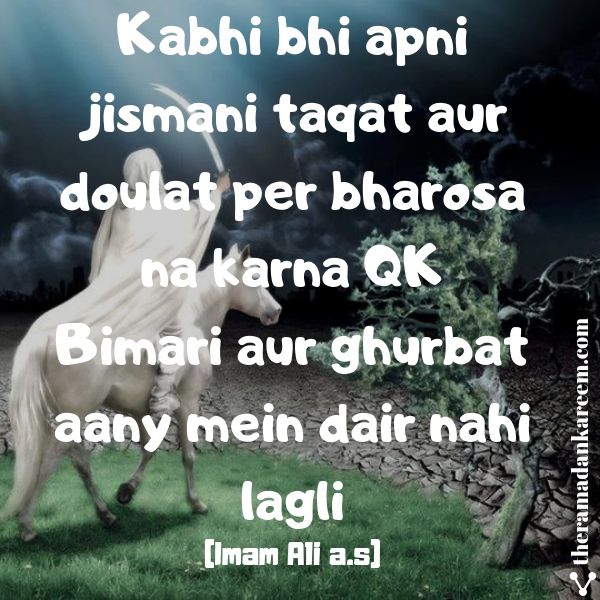 If there was no poverty and illness in this world, the man would never bow down in front of his lord.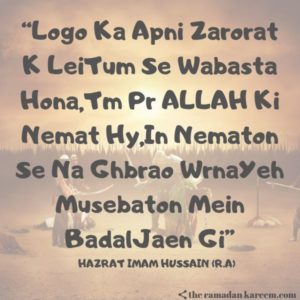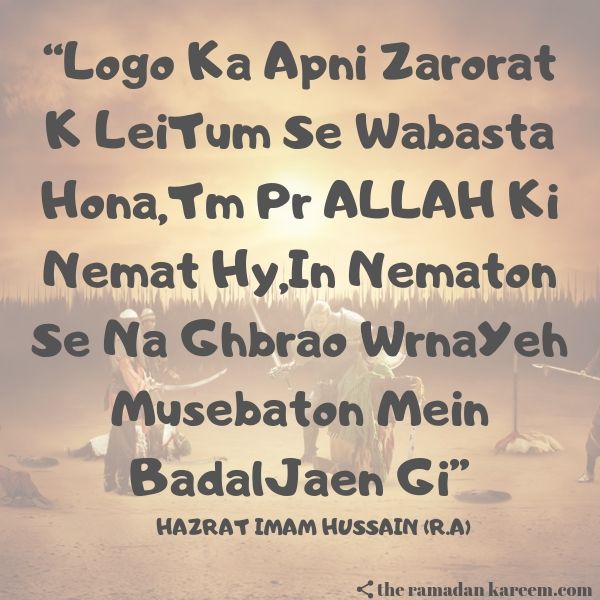 A person who considers you his friend will always stop you from doing anything bad, however, a person who considers you an enemy will always persuade you to do bad.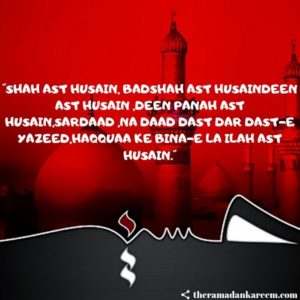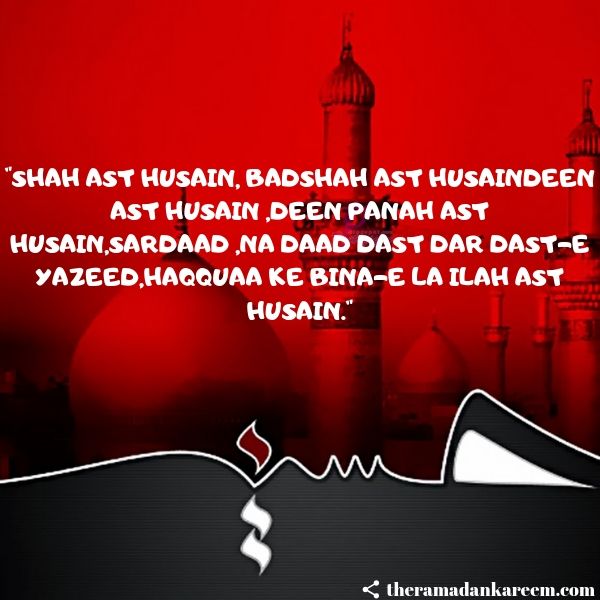 Death is nothing for me but only happiness however living a life full of deception is same as to like living a life in hell.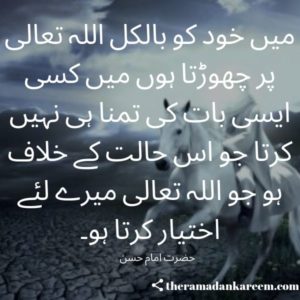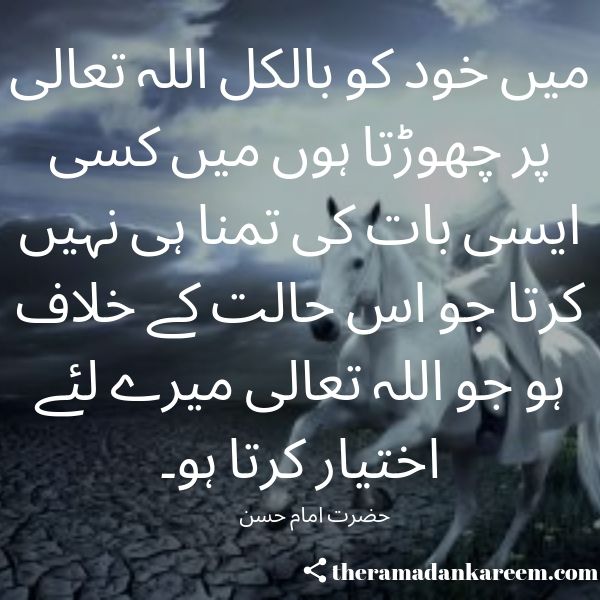 People with good deeds are not scared of the consequences after death.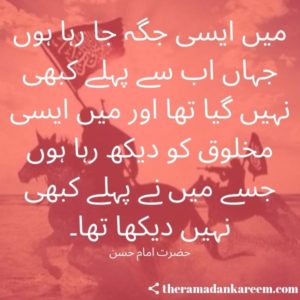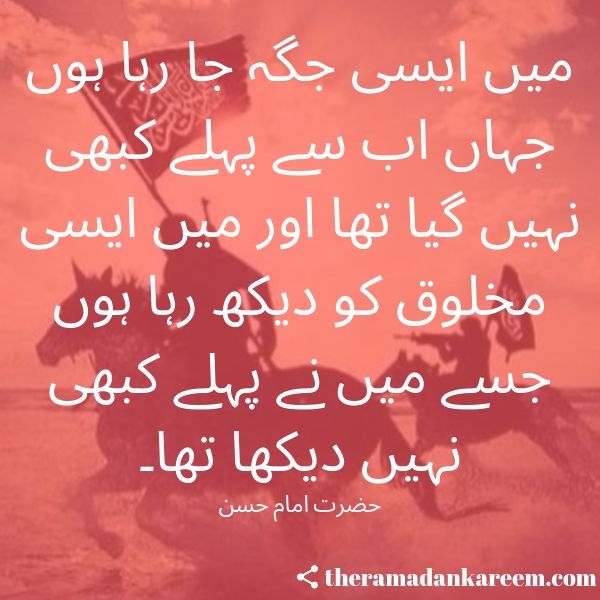 One should decrease his wishes and whatever he has in his hands should be enough for him to be satisfied.
A rude person in all true meanings is the one who avoids greeting others.
Never show off your happiness in front of a person who is sad.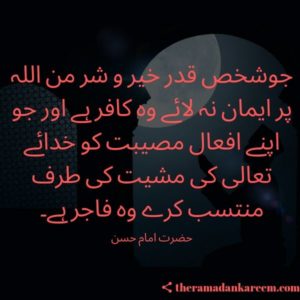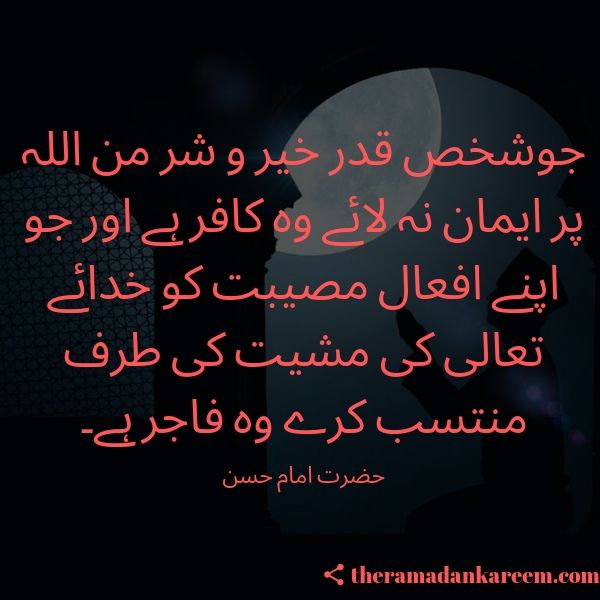 Among all of you, the most merciful person is the one who forgives even when he is fully able to take revenge.
A person never forgets two types of persons in his whole life, the one is a person who helped him in his hard times and the second one is the person who left him in his most difficult times.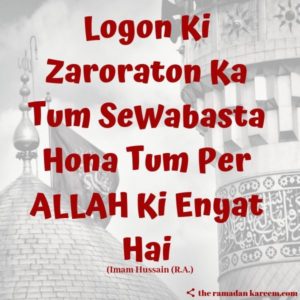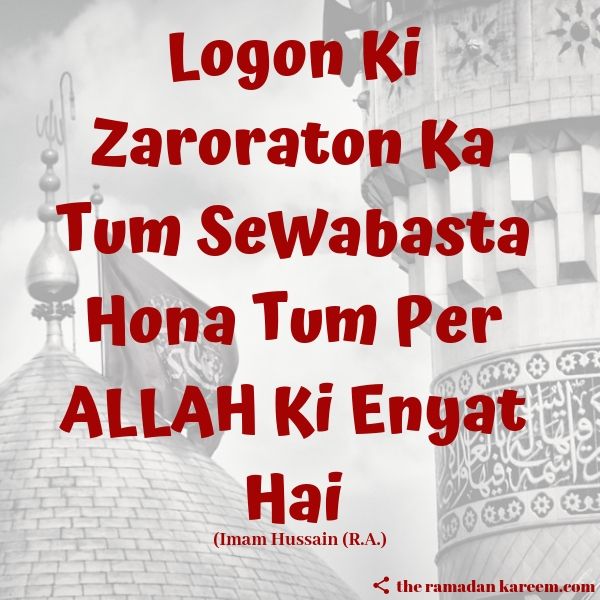 Everyone who stays silent when others are being oppressed are themselves considered to be guilty of oppression.
Avoid doing anything bad to a person who doesn't have anyone except Allah because such a person will only seek Him for his support.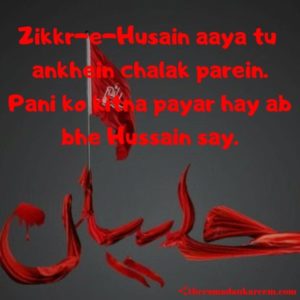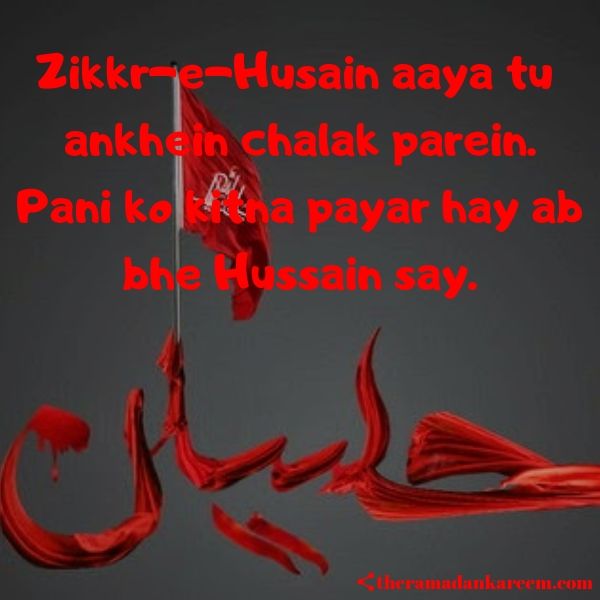 I learned courage and bravery from a person who saw thousands of arrows flying right towards him and he still stood with faith and trust on his God.
Death with dignity is better than a life lead with humiliation.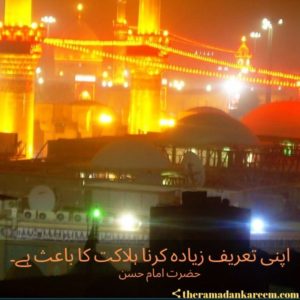 Your life is passing day by day, your death is coming nearer hence whatever worldly possessions you have to spend it on helping other people.
 Poetry about Hussain (R.A) & Karbala:
Jannat ki Arzu mai kahan ko ja rahay sab loag

Jannat to Karballa mai khareedi Hussain (ra) ne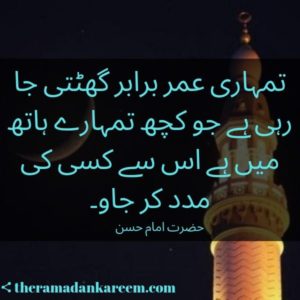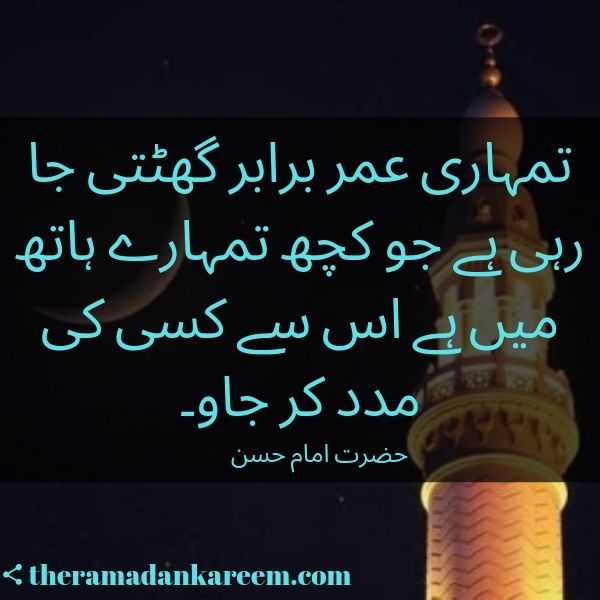 ---
Kaha k kaat do iska galla Hussain (ra) hain ye!!
Bana do aj yahin Karballa Hussain (ra) hain ye
Kisi ne pucha bta kya kia tha is ne jurm?
Kaha k jurm hai kafi k bas Hussain (ra) hain ye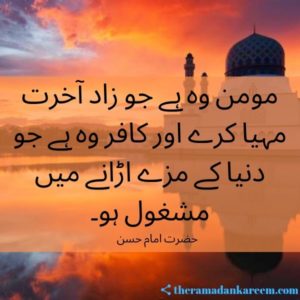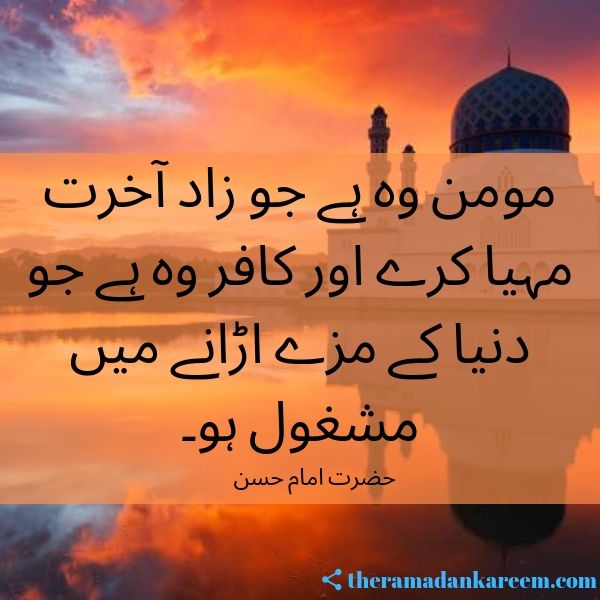 ---
Dunya o akhirat mai rehna ho ager chain se!!

Jeena seekho Ali (ra) se aur marna Hussain (ra) se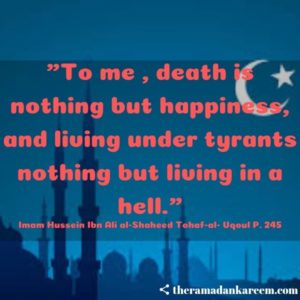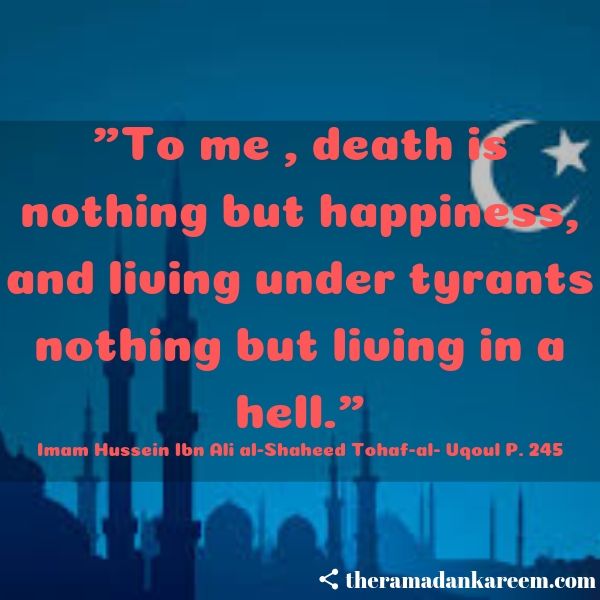 ---
Zikar e Hussain ne mujhe insan bana diya!!

Masjid ko meri jannat ka samaan bana diya!!

Ehsaan hai mujh par mere Hussain (ra) ka!!

Mujhko panjettan ka ghulam bana diya!!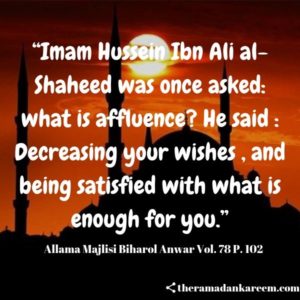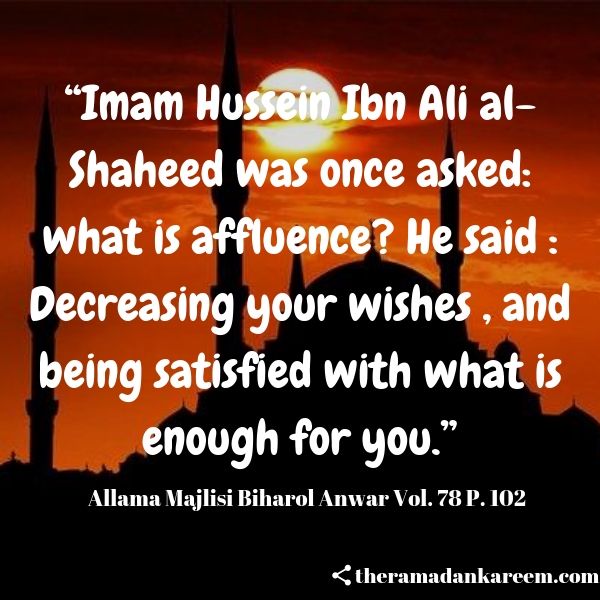 ---
Sajday mai sarr, gallay mai khanjar aur teen din ki piyas!!

Aisi namaz na hui phir Karballa k baad
---
Hadd hi nahi Hussain (ra) tere initeqaam ki!!

Lafz e Yazeed gaali se badtarr bna dia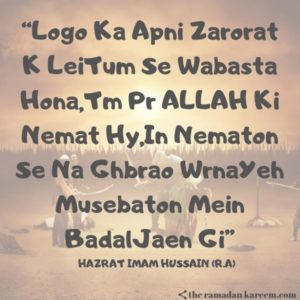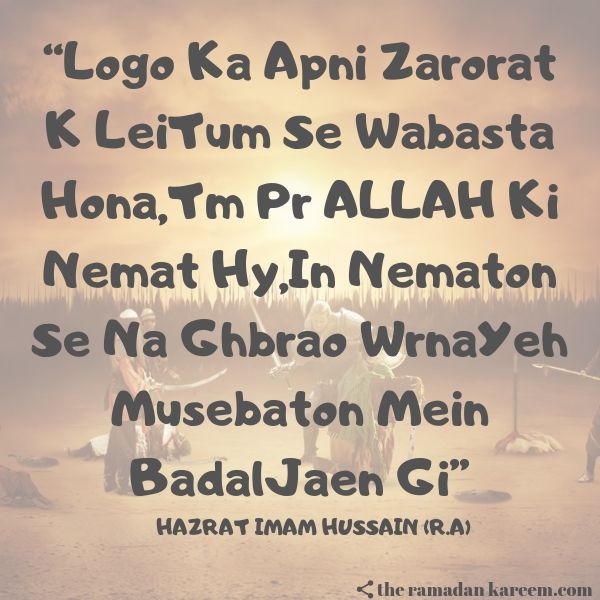 ---
Karballa mai aik taraf paani tha aur doosri taraf pyaas

Aur jo paani peetay rhay wo marr gaye

Jo pyasay thay wo aj bhi zinda hain
---
Islam ko zawal ho mumkin nahi kbhi

Islam ki ragon mai lahu hai Hussain (ra) ka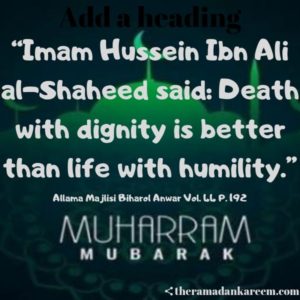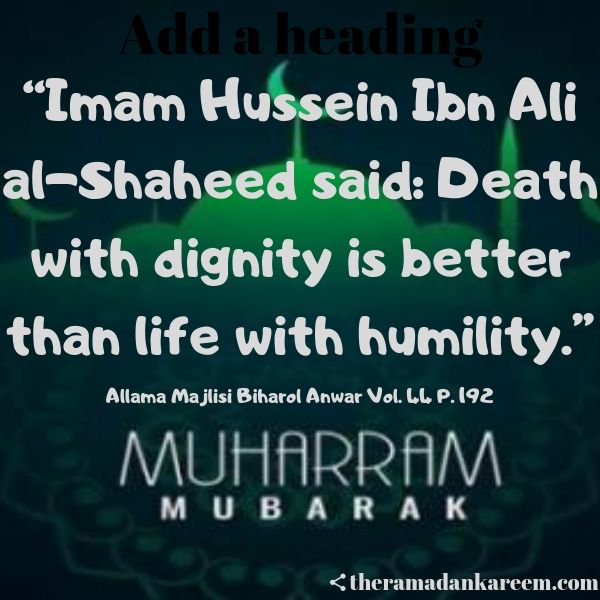 ---
Hussain (ra) Shah bhi hain aur badshah bhi!!

Hussain (ra) deen bhi hain aur deen e panha bhi!!

Na jhukay yazeed k samne kata dia sarr kk!!

Issi bina pe to bunyad e La Illaha bana diya
---
Sarr kat gya badan se, talawat nahi ruki

Hussain (ra) ka Quran se rishta ajeeb tha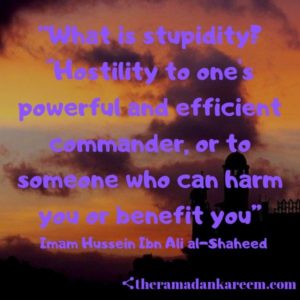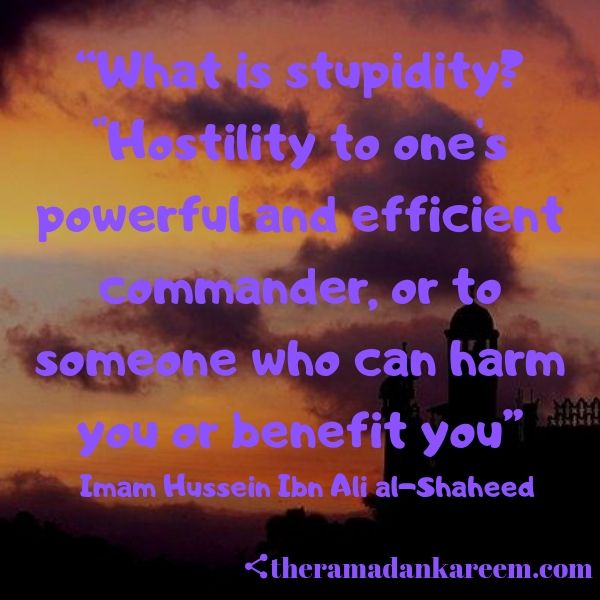 ---
Wapis Madina loat kar na aye phir Hussain (ra)

Ya Allah kisi ghareeb ka aisa safar na ho
---
Jeena k was tay to sabhi chortay hain ghar

Kuch aur hi tarah ki hijrat thi Hazrat Hussain (ra) ki
---
Hum ko gham e Hussain (ra) mai marna qabool hai
Is raah mai bikhra hua pathad bhi phool hai
Jannat na pa sako gay gham e Shabbir k baghair
Be habb e ahl e Bayt ki shahi qabool hai
Ay Yazeed Shaheed krne se pehle ye to soch lay
Ye Fatima (ra) ka laal hai ibn e Rusool hai
Jannat ki fikar hai tujhay ay kaneez kyunkar
Jannat to mere Hussain (ra) k qadmon ki dhool hai
---
Kya azaan thi jo thi madeenay mai Hazrat Bilal (ra) ne

Kya namaz thi jo Karballa mai ada ki Muhammad k laal ne
---
Hota hai jis par bhi khuda fida

Jr deta hai usko ishq e Hussain (ra) atta
We are going to update more quotes on Imam Husain's life.