Do you want to decorate your home, Office or School in Ramadan? Here are a few craft ideas and products to try out. If you want to make it yourself, you will see videos below, that will help you. If you love Ramadan and want to decorate your home with beautiful crafts, candles (lanterns), trees, lightings, and much more, you must be following our helpful guidelines. Ramadan is the 9th Holy Month for Muslims. Every Muslim awaits it. When this month comes, Muslims do fasting and celebrate in their own way. Ramadan Decorations is one of the main focusing points this month. I am introducing you to the multiple methods to decorate your street, home, office, or school.
Best Ramadan Decorations Ideas
1. Set your house
Get the Ramadan spirit by cleaning your house thoroughly and decorating it as well. You can decorate the main entrance of the house with the Ramadan labels or put this label on your home wall. Plus replace this label with EID Mubarak in the last Ashra of the EID.
2. Lanterns Decorations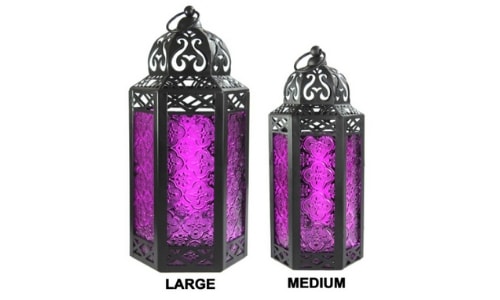 Dim lights create a romantic and joyful environment. Muslims follow the trend of lanterns to welcome the Rabi-ul-Awal and Holy Ramadan. Near me, it is the best thing to be adopted. You can decorate your house's entrance with small lanterns or place them on the roof or stairs. This is the best way to welcome the Holy month.
3. Put Ramadan Candles in your Launch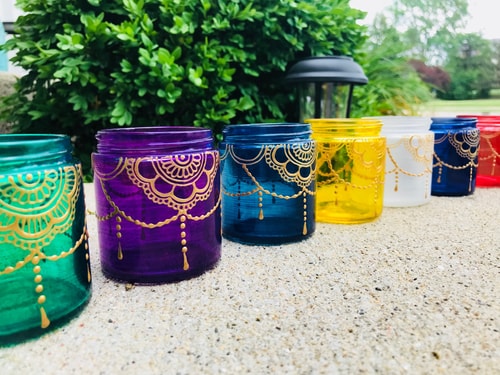 Empty space in your TV launch or in the gathering room to put the RAMADAN Alphabetical candles. It will give a beautiful display on the first date of Ramadan. Candle lights are a really satisfying and adventurous thing on any special occasion. We have the candlelight dinner on birthdays or anniversaries then why not we burn them on the RAMADAN advent.
4. Islamic EID Ramadan LED Stars LED Lights for Decoration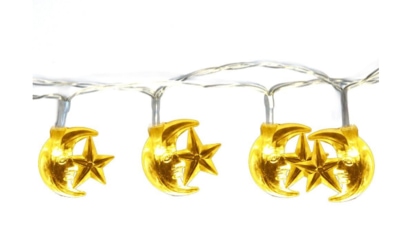 These beautiful lights, on Amazon, the product has a rating of 3.5 stars out of 5. These lights are battery-operated and can't be plugged into the wall. The product does not come with batteries. Three AA batteries are required to use this product. There are 20 pieces that are maximum 3 feet long / 2 meters.
5. Make Ramadan Crafts to Decorate home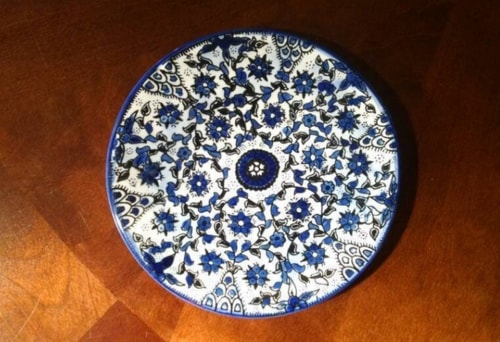 This is the best option for the crafter or fine arts loves. You can craft multiple things related to the Ramadan such as Ramadan Calendar, Lamps, labels, Alphabets decorations pieces and so on. Make your own Ramadan Calendar remember the days of fasting and days left for EID. These are also available in the market. You can also buy it according to your choice. Near me, it is a great addition to the Ramadan Decorations because 99 % of people go with this choice.
5. Pooqla Moon Marquee Letters LED Lights Decoration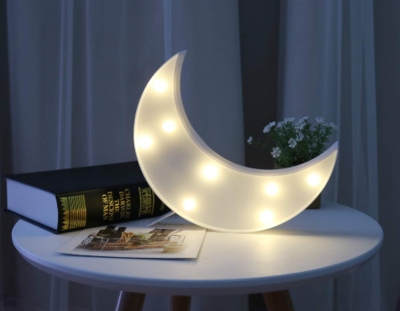 These lights, on Amazon, have a rating of 4.0 stars out of 5. You can create a warm and desirable atmosphere with these lights. There are 8 LED warm lights that are battery operated. Hence, you won't have to bother for an outlet or a power cord. The batteries required are 2 x AA, these are not included with the product. The product also has integrated hanging hook holes so that can easily be hanged or displayed on walls etc. These lights are plastic, making it sturdy, but not too heavy at the same time.
6. Green Glass Moroccan Candle
On Amazon, the product has a rating of 4.5 stars out of 5. This lantern is perfect for Ramadan and Eid, and other events as well, such as; birthday parties, dinner parties etc. This product is a popular choice, due to its unique design and art, while giving a rustic feel at the same time. The lantern is medium sized, with 6″ high glass panels with the large door opening. The product is made of iron and glass. It can be hanged or used a freestanding lamp. You can use tea-light, votive or small pillar candles up to 3″ x 3″. 4 3/8″ x 3 5/8″ x 10 1/2″ tall, 11 1/2″ tall with the loop.
7. Star Curtain Lights
This product, on Amazon, has a rating of 3.8 stars out of 5. These lights have an attractive feature, which is the 8 flash modes, giving the consumer many choices; Combination, Waves, Sequential, Slo-Glo, Chasing or Flash, Slow Fade, Twinkle or Flash, Steady On. Furthermore, it also has the feature of a memory function controller; allowing the lighting mode not to be changed after unplugging. These lights are also waterproof, allowing them to be sued outside and in the rain. However, keep in mind that the power and controller are not waterproof, so when using the product, be mindful of it.
8. Globe String Ramadan Lights for Decoration
These lights, on Amazon, have a rating of 4.1 stars out of 5. This product is ideal for those who are in a festive mood. The shape is a Moroccan Orb with the color of a warm white. The string length of the product is 168.11 inches. The quantity of LED is 40. The diameter of the ball is 0.98 Inches. There are 13.9 Inches long between each ball. There are two function modes; steady and flash. These lights operate on a battery, which requires 3 X AA Battery that does not come with the product. The product has high brightness and different effect. These lights also can be used over a long period of time.
9. Memoryee 14″ White Gold Metal Lantern for Ramadan Decoration
This lantern is beautiful with a star reflection. The product, on Amazon, has a rating of 4.2 stars out of 5. The set includes a 14 feet tall decorative lantern, with 15 LED String Lights. It is a white-colored Moroccan-designed lantern with a vintage pattern. It is made of metal. The string lights can also be removed and can be replaced with a candle that you prefer.
The product color is white and the Fairy lights produce a rose gold glow. There are also tempered glass panes, protecting the glass while transportation, and also resulting in it being weather resistant. The product dimensions are; 4″ x 4″ x 14″.
10. White Temple Moroccan Lantern
This lantern, on Amazon, has a rating of 4.2 stars out of 5. The product has intricate panels and can cast a halo of dancing candlelight's, setting a beautiful atmosphere. The design is Moroccan styled. It can be hanged or can be used as a freestanding lamp. Other important product specifications are;
Measurements: 11 1/4″ high; 12 1/2″ with loop. 4 1/8″ square; door opening: 3″ wide.
Weight: 11.4oz. Iron
11. TINNZTES LED Star Light Fairy String Light
The product, on Amazon, has a rating of 3.8 stars out of 5. They are 40 stars shaped LED lights, with 3 modes, that are; On, Flash, Off. It is 4 meters long / 13.2 feet long. The product has high brightness and no radiation and also no pollution. This product can be used for outdoor and indoor events. This product operates on batteries and the batteries that are required are 3 x AA, that is not included with the product.
12. Twinkle Star Decoration idea for Ramadan
This product, on Amazon, has 4.4 stars rating out of 5. The lights have 8 modes; combination, in waves, sequential, slogs, chasing or flash, slow fade, twinkle or flash, and steady on. This product is waterproof, allowing it to be used both, indoors and outdoors.
Furthermore, the product is easy to use as it can be directly plugged in and out upon usage and convenience. The length of the plug to the controller is 1 foot. The length of the controller to the LED light is 8.9 feet. Other specifications of the product are; 6.6ft X 9.8ft (width X length). There are 300 warm white LED lights, with a 29V voltage.
13. Islamic Gift Decor Pieces Set Sculptures
This product, on Amazon, has a rating of 4.2 stars out of 5 and also has fairly good reviews. This product is a 3 Piece Golden Set with scripture; 'Allah' and 'Muhammad' in Arabic calligraphy, Ayatul Kursi. The dimensions of each piece are about 11 x 22cm (4.3 x 8.6 in), And the dimensions for the Egg is 8 x 19cm (3 x 7.5in). The material used to make this product is Polyresin and rhinestones. Furthermore, the product was made in Turkey.
14. Buy Day Ramadan Counter
It is similar to the above one but it only gives the count-down of days rather than playing a role in the decoration. With every day you change the card number. In this way, you can get the countdown of remaining days of EID. This will also increase the eager among family related to the arrival of EID.
15. Display Ramadan Tree
Varieties of Ramadan trees and other decoration pieces are available online as well as in the market. Some popular Ramadan Trees are in the shape of the Moon and star. You can buy and enlighten it with fancy lights on the first night of Ramadan. It is available in different colors such as light grey, dark green, light green, golden, white and so on. I personally like the golden color as it shines more.
16. Henna Ramadan Glass
The most useable thing in the Iftar time is "Water". So, why should it not drink in some special glasses? This will a unique Ramadan decoration to have special glasses for Iftar or Sehar Time. It is easily available on AMAZON.com or in supermarkets.
17. Eid Mubarak Bunting Banner
This product is impressive and on Amazon, has a rating of 4.5 stars rating out of 5. The product includes an Eid Mubarak Letter pennants, Eid Mubarak themed pennants, satin ribbon, and non-marking wall mounts for hanging. Each pennant measurements are; 8.5 inches high x 5.5 inches wide. And the Ribbon measurements are; 24 feet long and 3/8 inch wide. The product material is good and is made of cardboard. Furthermore, the product is made in the USA.
18. Moon Shape Neon Light Decoration Ramadan 2022
The product has decent reviews on Amazon. Furthermore, it has a rating of 3.8 stars out of 5. This product is a beautiful and modern palm tree. The product dimensions are; H12.2″ x W7.3″ × D0.6″ (Moon: H10.8″ × W7.3″; Holder Base:H1.4″ × W3.9″).
Furthermore, the product is powered by a USB cable which is included with the product. The product also requires batteries; 3 AA batteries are required that are not included with the product. Moreover, the product comes with a gift box.
Ramadan Decorations Diy
Celebrate your Ramadan with your family and beloved ones. Make your Ramadan special with some special decoration that always makes you feel that these days are really special. If you are in search of an amazing idea then I can help by sharing my own creative decoration idea.
19. Ramadan Calendar with hard paper and Accessories     
Ramadan calendars are available in the market and store but they are quite expensive and less attractive. This is a simple and cheap idea to make your own Ramadan calendar.
Take multiple colored charts according to your choice.
Take one chart and make it a background on which you are going to paste the stuff.
Now, take another chart to make the small square boxes of equal sizes. Make sure they are counted to 30.
Mention the counting from 1 to 30 and the dates according to the academic and Islamic calendar. This will help you to remember both dates at the same time. You can also add one Ayat per day.
Now, paste these squares-shaped boxes in ascending order with a glue gun.
Make it more attractive by pasting branches, tattoos, moon, etc. You can do so as per your desire.
It's done. J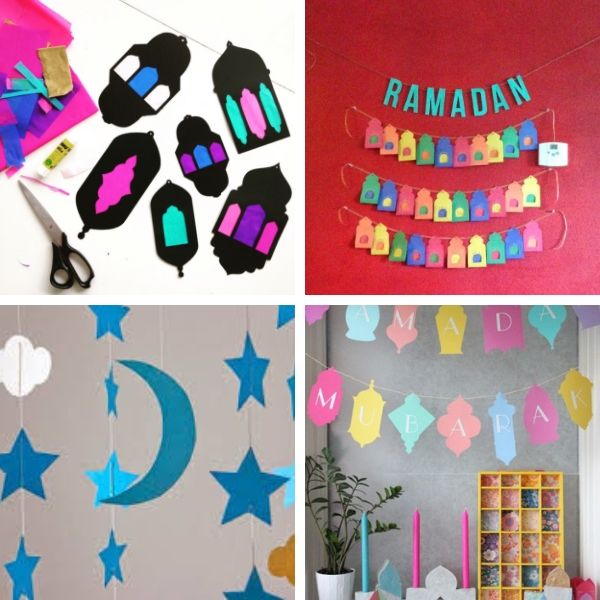 20. Make Ramadan Cake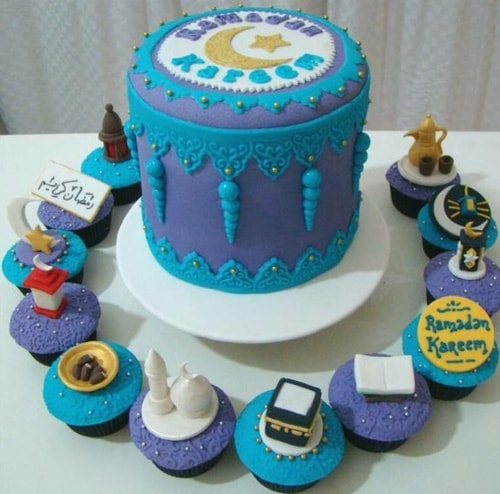 You can make your event by introducing the new tradition. As we cut down the cake on every special event like marriage anniversary, 12 Rabi-ul-Awal, Eid, birthdays, and so on. Similarly, we can cut down the Ramadan cake after the appearance of the moon.
If you are good enough at cooking and baking then you can also bake the cake in your special style. It will show your feeling and also spread happiness among the family members. Because such a thing binds the person emotionally, increases the love, and removes the differences.
Ramadan is an important event for Muslims, signifying the reveal of the Holy Quran to the Holy Prophet. During Ramadan, Muslims give it their all and celebrate and cherish every moment. It is a time for self-reflection, where you devote everything to Allah. An important part of the celebration is decorations, that help Muslims get in the spirit of this Holy Month.