So, today we reached the milestone of Ramadan, like the First Friday of Ramadan. And we should learn and share the first Friday of Ramadan quotes with friends and family.
Friday! The King of all weekdays. Allah (SWT) has blessed Muslims with some beautiful days. Friday which is considered as the weekly 'Eid, is a holy day for Muslims. On this day, the thawab of taking shower, wearing neat and clean clothes and use fragrance is more than other days.
And when we talk about Ramadan Kareen! The king of months of the Islamic calendar! A month which is Superior from all other months with countless blessings. So what will be the blessing of Friday In Ramadan? When the holy day comes in a holy month then it has its unique grace.
Check Duas for Ashras from here.
Let's refresh our Emman and refine our hearts by reading these First Friday of Ramadan Quotes from the Quran and Hadith. Here, you will also find some First Friday of Ramadan Quotes, Greeting and Messages.
First Friday of Ramadan Quotes from Quran & Hadith 2020
" O you who believe! When the call for salah is made on al -Jummah hasten to the remembrance of Allah and leave trading aside. That is better for you if only you knew." [62:9]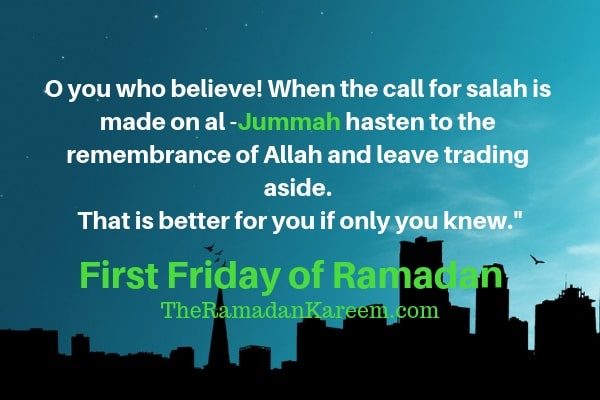 This is a day of 'Eid that Allah has ordained for the Muslims, so whoever comes to Jumu'ah, let him do ghusl, and if he has any perfume let him put some on, and you should use the miswaak.

Ibn Maajah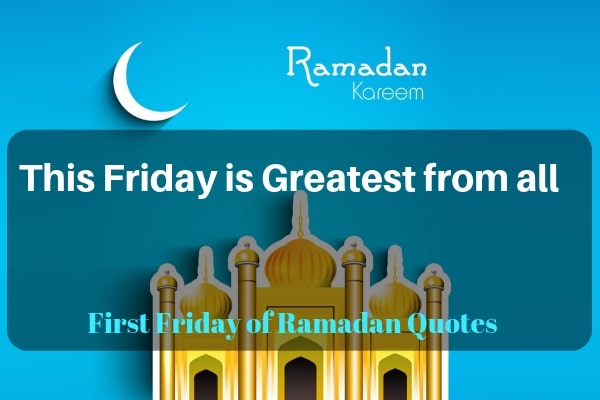 Come to Masjid early for the Jumma (Friday) prayer and earn bonus reward of as much as offering a camel.

Sahih Al Bukhari 929
Ramadan Jumma Mubarak Images Quotes 2020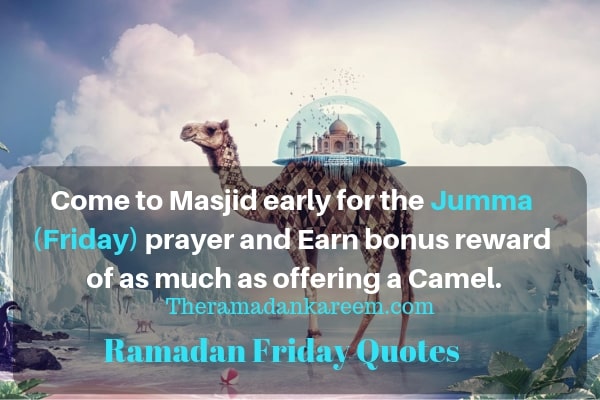 Αbu Said al-Κhudri reports that Τhe Prophet S-Α-W said: whoever recites Surat Αl-Kahf

Οn Jumah will Ηave illumination from Τhe light from οne Jumah to Τhe next.

(Αn-Nasa'i, al-Βaihaqi,and al Ηakim)….

Imam Ibn AL-Qayyim stated:

Friday is the day which balance the week, Ramadan is the month which balances a year, and Hajj is the duty which balances one's life.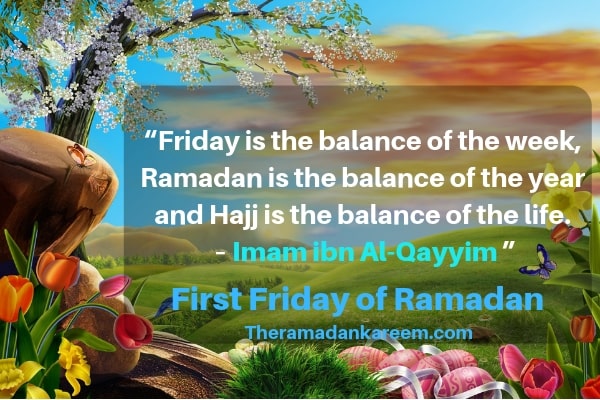 Friday is the best day, on this Allah created Adam, on this day Allah told they entered in heaven and on this day they were ejectedd from Jannah.

Ahmad
When it is Friday, The angels stand every door of the mosque and record the people in order of their arrival.

When imam sits, (on the pulpit for delivering the sermon) The angels fold up their sheets and listen to the mention (of Allah).
He who comes Early is like one who offers a She-Camel as a sacrifice the next, like one who offers a Cow the next, a Ram, The next A HEN. The Next an EGG.

Sahih Muslim
First Friday of Ramadan Quotes, Messages & Greetings
Hazrat Ali Ibn e Talib stated:

"Put aside your pride,

set down your arrogance

and remember your grave."

Happy First Friday of Ramadan!!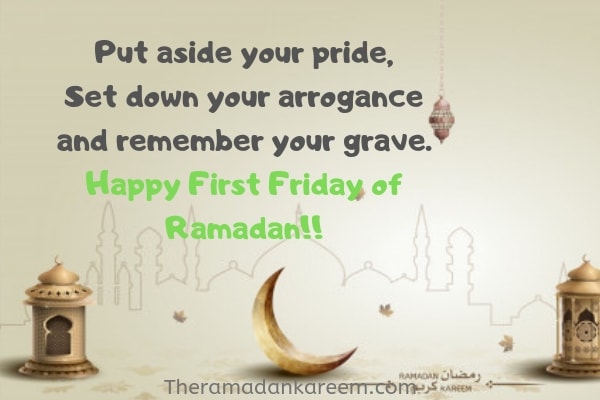 ---
Whoever read Surah Al Kahf on the day of Jummah, will have a light that will shine from him from one Friday to the Next. Jummah Mubarak.
---
When the sun of Jumma  appear

its glowing rays

light up your house

bring the presents of Emaan

and taqwa, sacrifice, and harmoney

For  Your Heart. & Home

May Allah Send

His Myriad Sanctifications

For you and you  and your Family

on This Holy Day.
---
Keep Calm & Clean

This is the First Friday of Ramadan!

Have a blessed Friday.
---
Ramzan ka Pehla Jumma Mubarak Ho
Today is Jummah, The Brightest Day of the week. So, make your body clean, use fragrance, go to mosque to offer prayers, make sincere appoligies to God for your mistakes , recite Quran and Darood e Ibrahim ,and Recite Surat Kahf to make yourslef safe from all type of evil.
---
The Most blessed and powerful day of Ramzan is 1st Friday. Thanks to Allah in Sehr and Iftar.
---
If you want to add your own quotes related to our website, you can message us.