Want to check out Ramadan Office Timing 2021? Yes! You are in the right place. The holy month of Ramadan is expected to start on 25 April 2021 in different regions of the world. As you know fasting hours are getting longer with the advent of Ramadan Kareem in summer in the Middle Eastern countries. It's become really challenging for Muslims to fast for 17 to 20 hours in top summer days.
Governments are here to facilitate the workers to fulfil this religious responsibility with relaxation in the working hours. The office timings for the month of Ramadan are updated with some concession in work hours. Do you want to check the banks and govt office timing? If you are looking for UAE and other countries, visit below section.
In the image, you can see government office timings in Pakistan.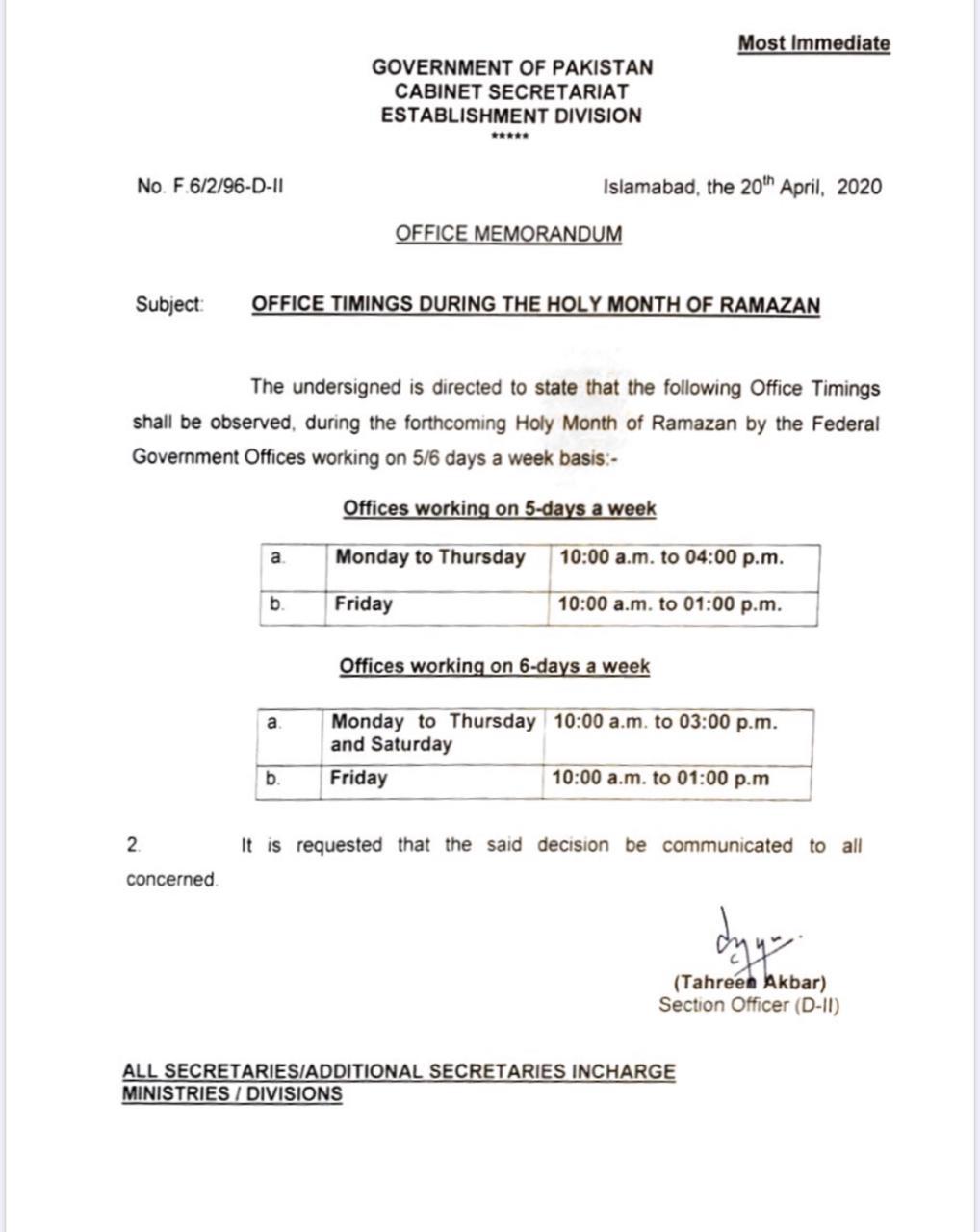 Ramadan Office Timings in Pakistan 2021
The government of Pakistan has released a notice with updated office working hours in the duration of Ramadan Kareem to provide relief to workers.
According to this official Notice, offices who operates 6 days a week, their timing will be 9:00 AM to 2:00 PM except Friday. The timing Friday Friday will be 9:00 AM to 1:00 PM.
The offices which run 5 days a week, their working hours will be 9:00 AM to 3:30 PM from Monday to Thursday. For Friday, the offices will remain open from 9:00 AM to 1:00 PM.
Offices That work for 5 Days In a week

Monday to Thursday

Friday

10:00 AM – 4:00 PM

10:00 AM to 1:00 PM
Offices That work for 6 Days In a week

Monday to Thursday and Saturday

Friday

10:00 AM – 4:00 PM

10:00 AM to 1:00 PM
According to Pakistan Meteorological Department (PMD) latest prediction, the moon of Ramadan will appear on the evening of 24 April and Ramadan will start from 25 April.
Ramadan Office Timings In Dubai UAE
The office timings of public and private sector offices in Dubai are also updated for the holy month of Ramadan. The working hours are reduced for the feasibility of public so people could manage both the working and religious obligations side by side.
The office timing of the private sector is shortened for 2 hours by the government of Dubai. As well as the workers of the public sector will enjoy great relief in working hours during fasting. The Federal Authority for Government Human Resources of UAE has announced that the offices of the public sector will remain open for 5 hours from 9:00 AM to2:00 PM during the month of Ramadan.
Office Timings in Saudi Arabia
Saudi Arabia has a law that enforces the reduction of working hours during Ramadan Kareem. That's why the working hours in Ramadan will also be reduced according to Saudi Arabia's Labor Law. The Law is applicable to both the private and public sector and according to this law, the working hours of a Muslim worker shall be reduced to the maximum of 6 hours a day or 36 hours in a week. The rule is particularly applicable for a fasting person, however, most of the companies apply it for all of their workers either it is a Muslim or Non-Muslim.
Approximately 1.5 billion Muslims from all around the world perform the holy ritual of fasting from dawn to dusk and nearly all Muslim countries reduce their working hours in Ramadan. Some non-muslim countries also give concession in working hours to Muslim workers in the respect of Ramadan Kareem.